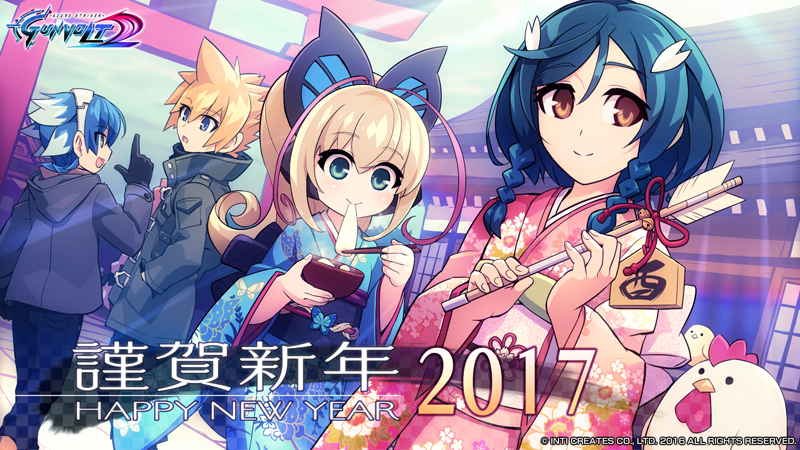 Seasons greetings once again, Strikers! The year 2017 is less than a week away, and considering this is our last day at the office before we break for the new year, we wanted to share a bunch of goodies with you before we head home!
First up is the Azure Striker Gunvolt 2 New Year's wallpaper above, which features Team Gunvolt (GV, Joule, Xiao, and Quinn) at a Japanese shrine participating in what is called hatsumode. Hatsumode is the first Shinto shrine visit of the Japanese new year, and once the clock hits 12:00 on 1/1, all throughout the day you can find flocks of people making their visits at all hours of the day and night. Super popular shrines such as Kanda Shrine in Tokyo's Akihabara district (made famous by the anime Love Live) or Meiji Shrine in the Harajuku area will have lines spanning multiple city blocks just to wait to get in.
You can download the Gunvolt 2 new year's wallpaper from the Gunvolt 2 official website.
Today is also the release date for a  bad-ass round of Azure Striker Gunvolt 2 DLC in Japan, featuring stages with boss battles against Gunvolt 1 bosses, a new song by Joule and Lola, and a lot more! While we are still getting the DLC ready for release in North America and Europe, we wanted to give Gunvolt fans outside of Japan a better taste of what's to come! We are hoping to have the DLC available in NA and EU sometime in January, so as soon as we have an exact date for that, we'll be sure to announce it.
Finally, for those of you who still have not had the chance to give Azure Striker Gunvolt 2 a try (or if you wanna be able to show your friends how awesome it is, hehe), starting tomorrow 12/29, a demo version of Azure Striker Gunvolt 2 will be available on the North American 3DS eShop. We are preparing a demo version for Europe as well, so please wait just a little while longer for information regarding the demo version in Europe.
Alright, that should do it! Happy new year to all you Strikers, Masters of Blasting, and other awesome fans out there! Thank you for making 2016 a fantastic year, and we hope you will continue to enjoy our games in 2017.
Keep on Striking,
Matt Papa
Gunvolt Assistant Producer