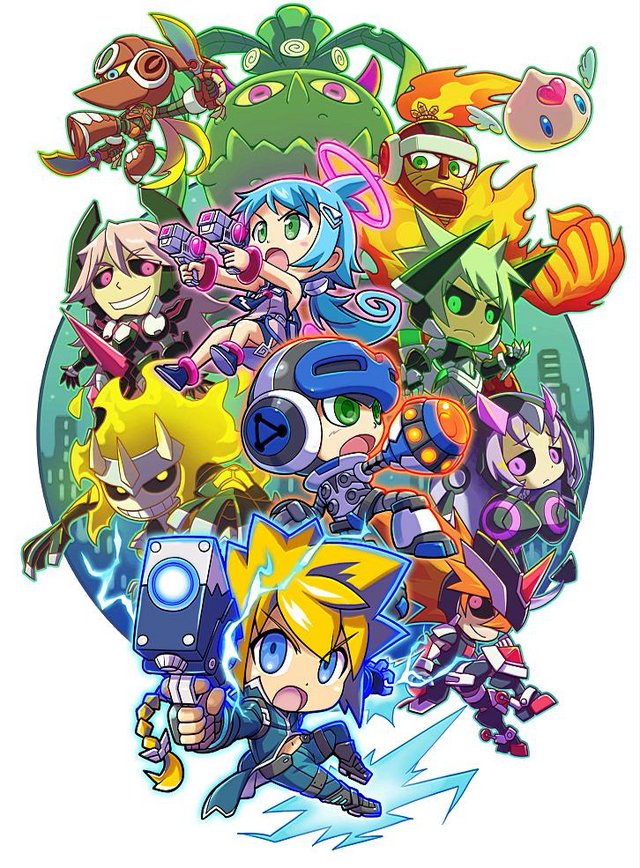 <CORRECTION: We previously reported that the version update will coincide with the release of Mighty Gunvolt as a standalone game on November 28th. This was an error. Rather, the update will coincide with the release of the DLC instead, at a date to be announced soon. We sincerely apologize for the inconvenience.>
We here at Inti Creates are very happy to announce that Mighty Gunvolt will be receiving a version update and DLC package! Mighty Gunvolt will go on sale as a standalone game on November 28th for $3.99 (USD). The early adoption campaign for Azure Striker Gunvolt which allows you to download Mighty Gunvolt for free will be ending at this time as well, so make sure you pick up Azure Striker Gunvolt by 8:59AM PT on the 28th if you want to receive Mighty Gunvolt for free! A release date for the version update and DLC package is coming very soon, so stay tuned for an update in regards to that. The update can be downloaded from the eShop free of charge when it is available.  Now, let's have a look at what is coming with the update and DLC!

Version 2.0.0. Update Information
◆Stage Select Screen: Pressing the B Button allows you to return to the Title Screen. Selecting stages is easy to do, and now, you will be able to access the upcoming DLC stages right from the main Stage Select Screen.
◆All Playable Characters: All characters have new animations for entering and exiting a stage.
◆Gunvolt : The amount of time required for his Charged Attack (Lightning Attack) has been shortened a little bit.
◆Ekoro: The maximum number of on-screen shots for Ekoro has been increased from 3 to 4. The endurance of enemies she can convert with her Lock-On Shot has also been changed. Additionally, previously non-convertible enemies, like the baddies that hatch from Stratos' eggs, are now convertible.
◆All stages: Enemies are re-balanced, including changes to their actions and timing. More hidden items have been added as well.
DLC Information
The new DLC package will cost $2.99, and contains 4 brand new stages featuring 4 different boss characters from the worlds of Azure Striker Gunvolt, Mighty No. 9, and Gal*Gun.
Even though Mighty No. 9 hasn't even been released yet, you get the chance to do battle with Mighty No. 1 and Mighty No. 7!
Character Introductions: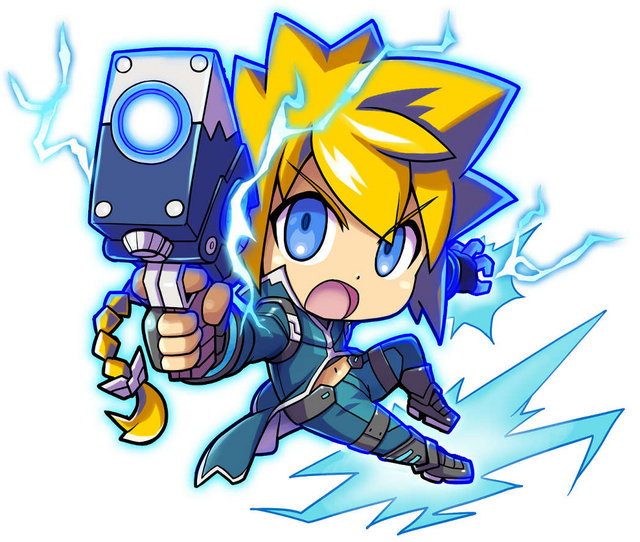 Gunvolt: He's the hero of Azure Striker Gunvolt. Gunvolt can perform a double jump and obliterate enemies with his powerful charged Lightning Attack.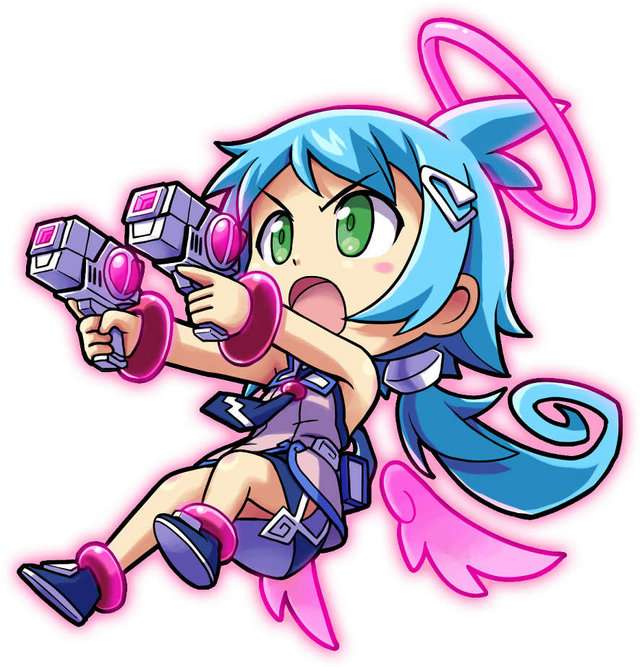 Ekoro: She is the lovely angel from Inti Creates' Gal*Gun series. She can float through the air and convert enemies to fight alongside her by using her Lock-On Shot.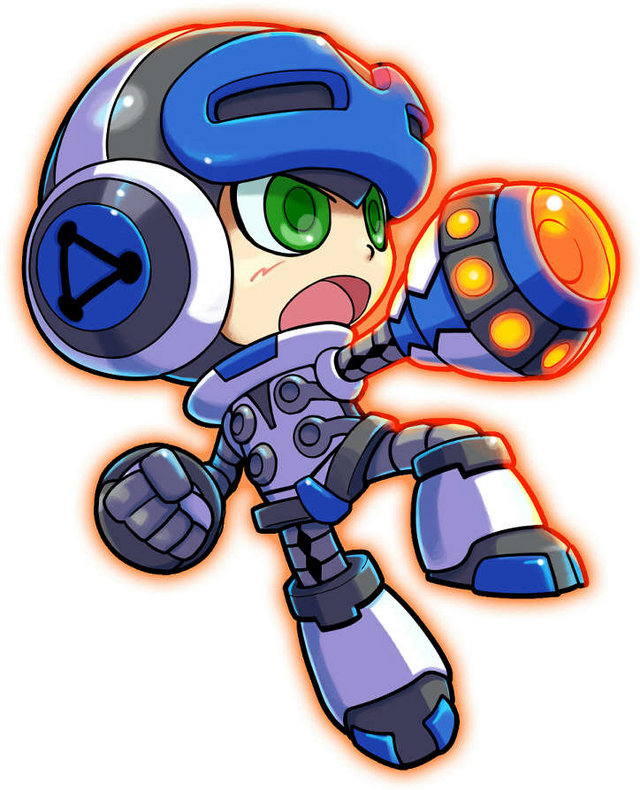 Beck: The hero from Mighty No. 9 joins the team. He can fit through narrow passages with his sliding ability and barrel through enemies with his charged Tackle Attack
Introduction to the DLC
BIO LAB stage (Boss: Elise from Azure Striker Gunvolt)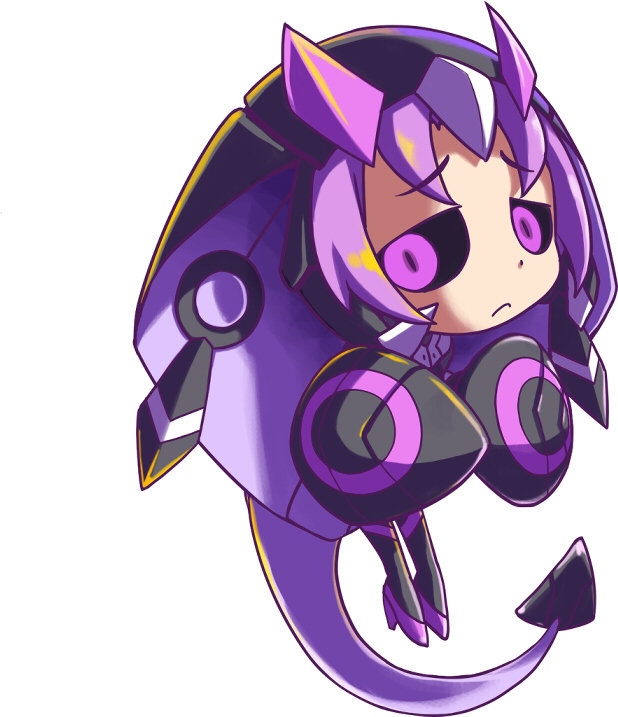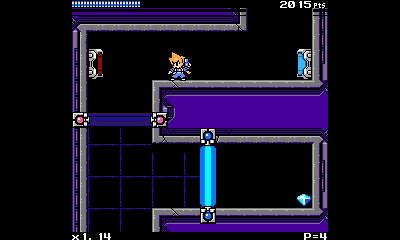 Shoot the blue switch to get rid of the blue laser barriers. This is a key point in this stage!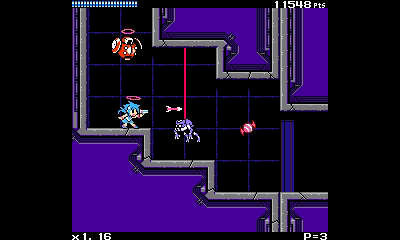 If the ropes holding the zombies are broken they will begin to thrash around on the ground!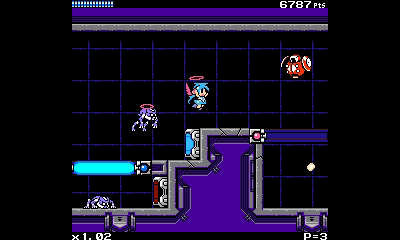 Enemies that Ekoro has successfully converted can hit switches with their shots.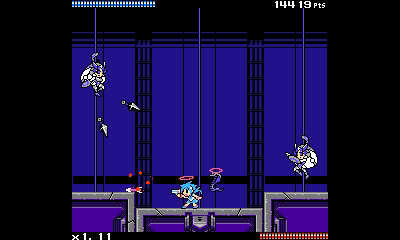 The two Elises attack with kunai knives from both sides of the room!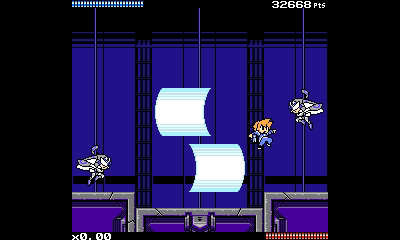 Watch out for her dual light beams!
HIGHWAY stage (Boss: Mighty No. 7 from Mighty No. 9)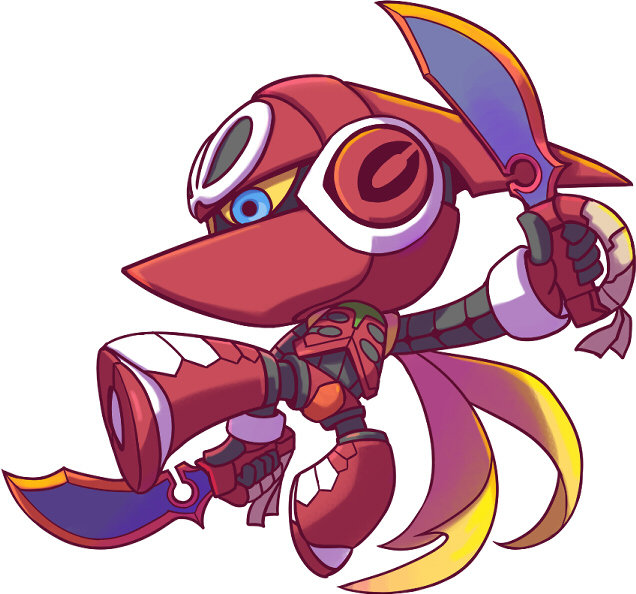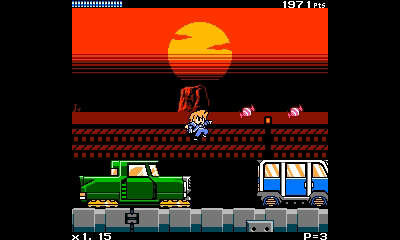 You'll be jumping from the tops of moving vehicles in this stage. Be careful not to fall!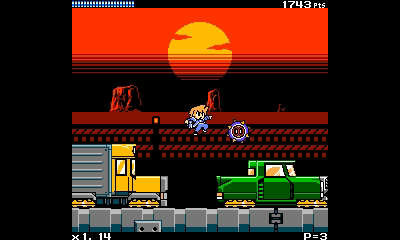 Spinning tire enemies whirl through the air to try to impede your jumps.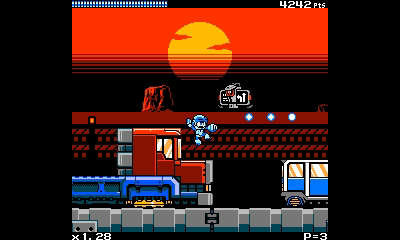 Make sure you don't bump into the floating billboard enemies!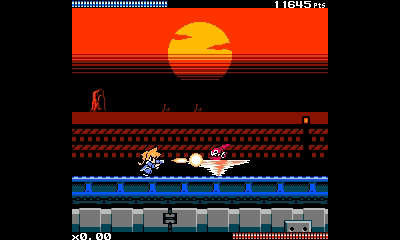 Time your jumps to avoid No. 7's deadly spinning blade attack!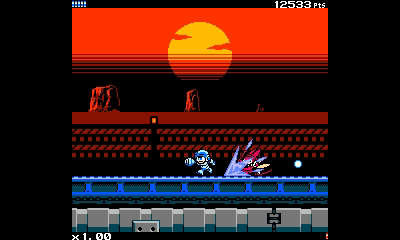 No. 7 takes aim at you in mid-air before delivering a nasty kick!
FACTORY stage (Boss: Mighty No. 1 from Mighty No. 9)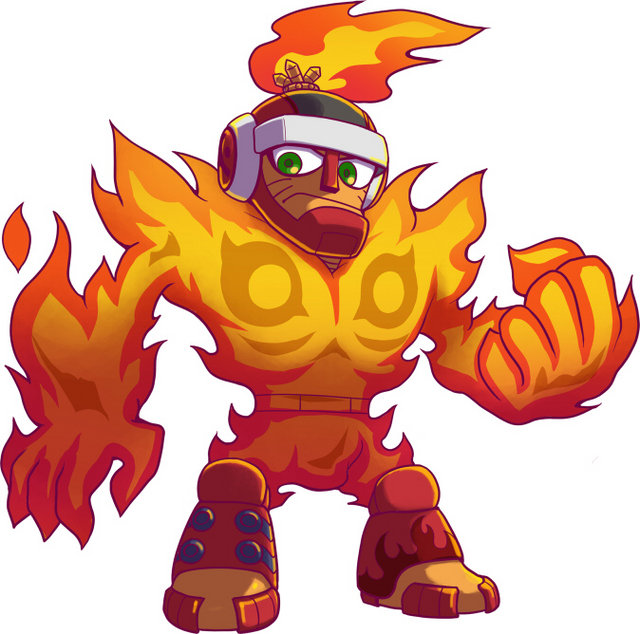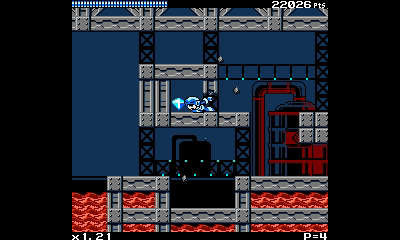 Steam shoots from the floor and ceiling in the fiery Factory stage.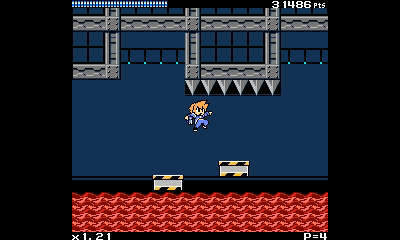 Red-hot lava below, spikes above. Good jumps and precision are the keys to survival!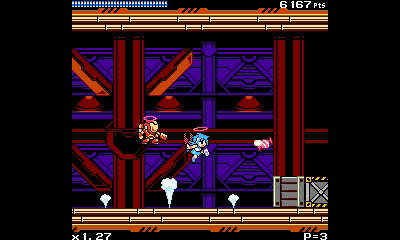 Avoid the steam by moving forward at just the right time!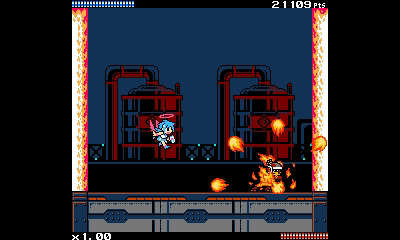 No. 1 launches fireballs in all directions with his flaming punch attacks!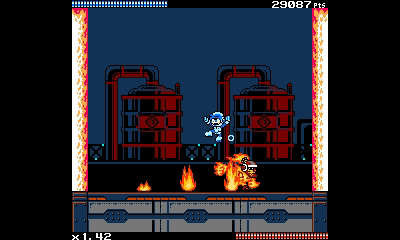 No. 1 leaves flame pillars in his wake following his deadly dash attacks!
GYM stage (Boss: Mr. Happiness from Gal*Gun)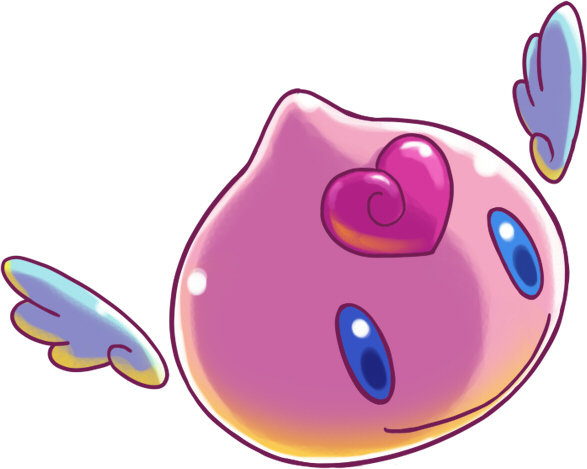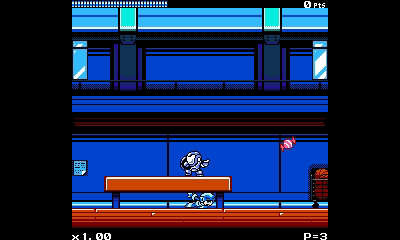 Blast through the enemies that have taken over the gym! Avoid enemies that are difficult to hit!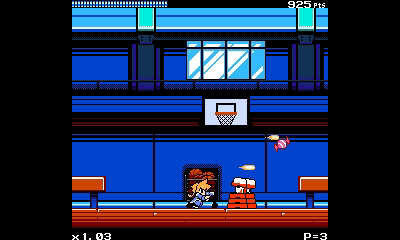 Watch out for enemies hiding in the vaulting horse!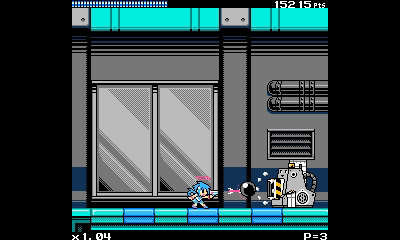 Cannonballs come flying from the odd contraptions set up by the poolside!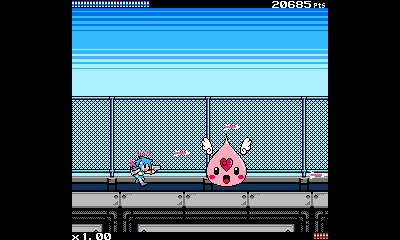 A giant-sized Mr. Happiness comes at you with his cute, yet crushing Pound attack!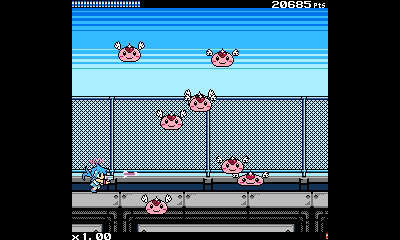 Mr. Happiness splits off into smaller forms that will attack you from the air! Try not to get hit!