Ever since we were named official development partners for the Nintendo Switch, we've been going all-in on making games for the system, and at Bitsummit in Kyoto, we had the pleasure of announcing two brand new titles for the Nintendo Switch:
Mighty Gunvolt Burst – Coming to Nintendo Switch and 3DS on June 15, 2017 for $9.99
Mighty Gunvolt Burst Official Website
Azure Striker Gunvolt: Striker Pack – Coming to Nintendo Switch on August 31, 2017 for a price TBD.
Azure Striker Gunvolt: Striker Pack Official Website
Let's a have a look at each of these titles, starting with Mighty Gunvolt Burst.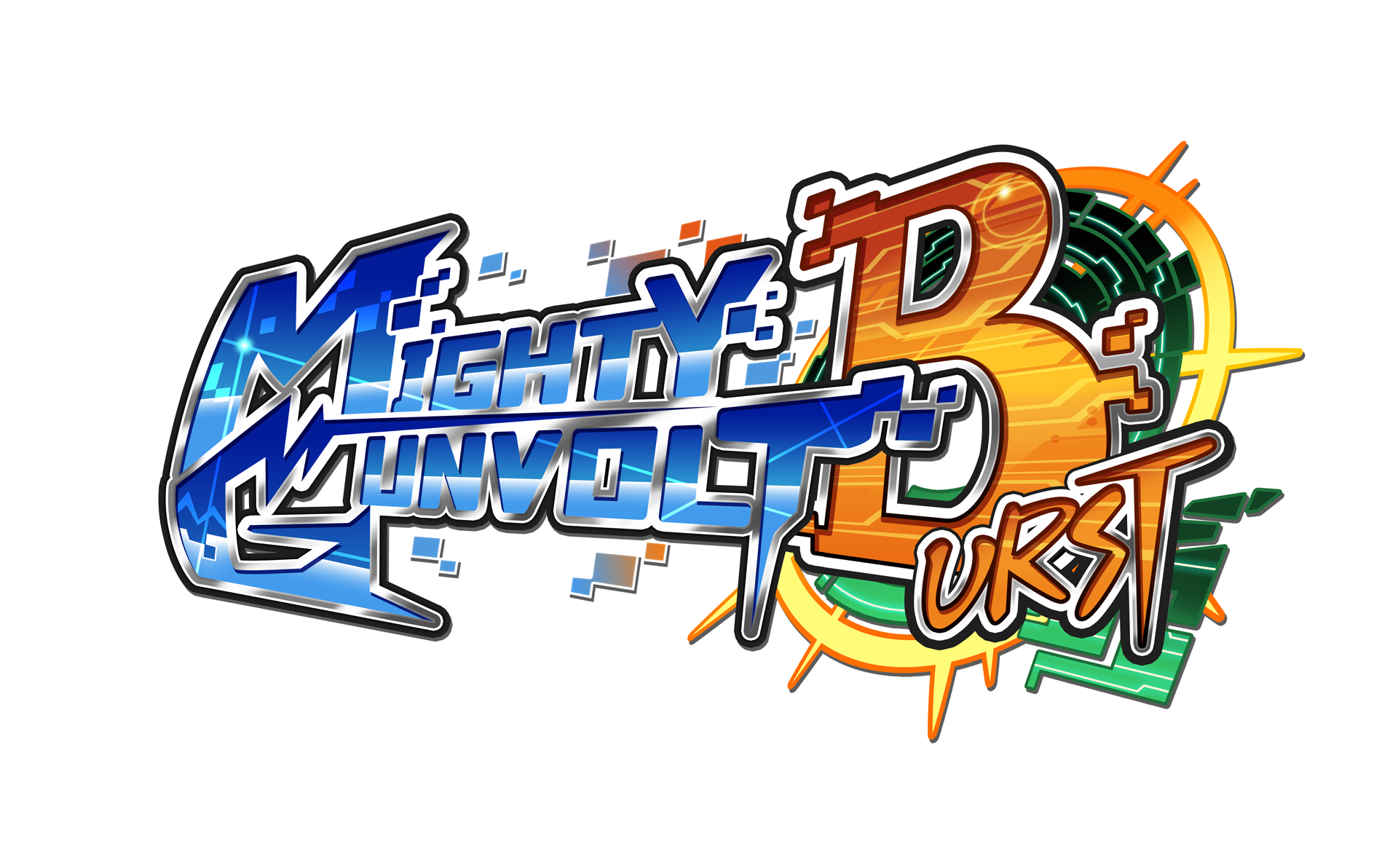 Mighty Gunvolt Burst is a sequel to Mighty Gunvolt, the bite size 2D action game that we released back in 2014 alongside Azure Striker Gunvolt. This time around, threads of fate are bound together in a strange new virtual world!
Overview
The game systems have been completely revamped and powered up with lots of new additions, including a deep character customization system that lets you mold and shape your character into the ultimate hero that works best for you!
The classic pixel style graphics have also been completely redone to blur the line between 8-bit and 16-bit and take you back to the golden age of 2D action games!
Gunvolt from Azure Striker Gunvolt 2 and Beck from Mighty No. 9 make their return as playable characters! Find out what happens when their home worlds intertwine in the realm of virtual reality!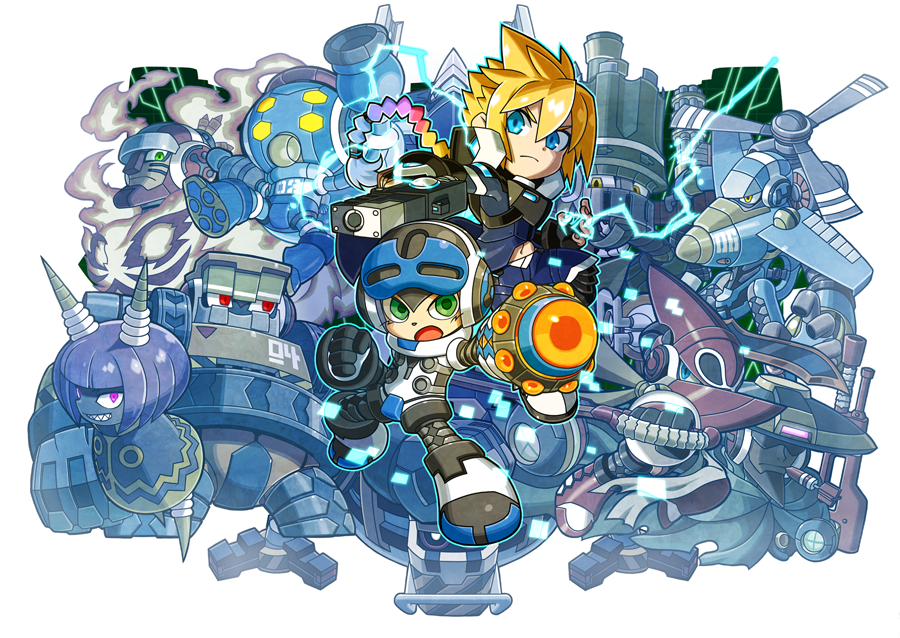 How Mighty Gunvolt Burst Came to Be
We really enjoyed creating the original Mighty Gunvolt back in 2014, and with our duties with the Mighty No. 9 project being long over at this point, we began to miss working with these characters that we love, and wanted to share Beck and his mighty siblings with the world once again. Comcept gave us the OK to use the rights to these characters however we see fit (and free of charge too), and from there, we set out to bring them back to the stage in the best way we know how: 100% pure Inti Creates 2D side-scrolling action with excellent pixel art!
With that said, let's take a look at some of the key features of Mighty Gunvolt Burst!
Burst Combo
Finish off an enemy up close to trigger a "Burst"! Enemies explode in a more glorious way, and you earn extra points toward your high score! Chain together a bunch of Bursts to start a Burst Combo and take your score to new heights! Bosses can also be defeated with a Burst, so try to end the battle with a Burst!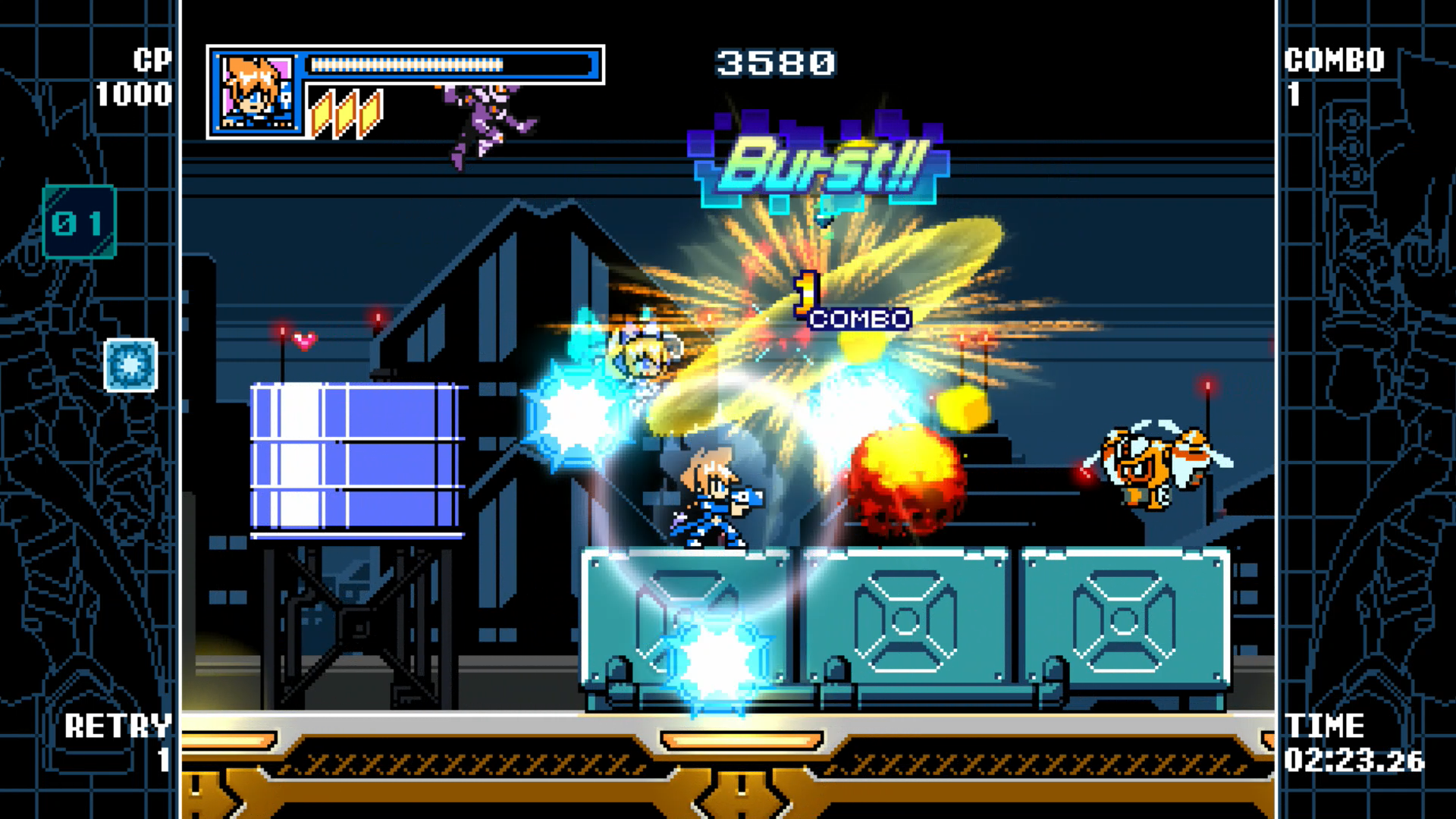 Customization System
Collect a bunch of different modules to add new items to your customization loadout! If you wanna increase your abilities, you're gonna need Cost Points (CP). As long as your loadout value doesn't exceed your available CP, you can create any setup and change it any time. A wide variety of shot customization options await from piercing bullets, homing shots, and a lot more! You can also test your changes on the Customization screen as you go so you can discover the perfect shot for you!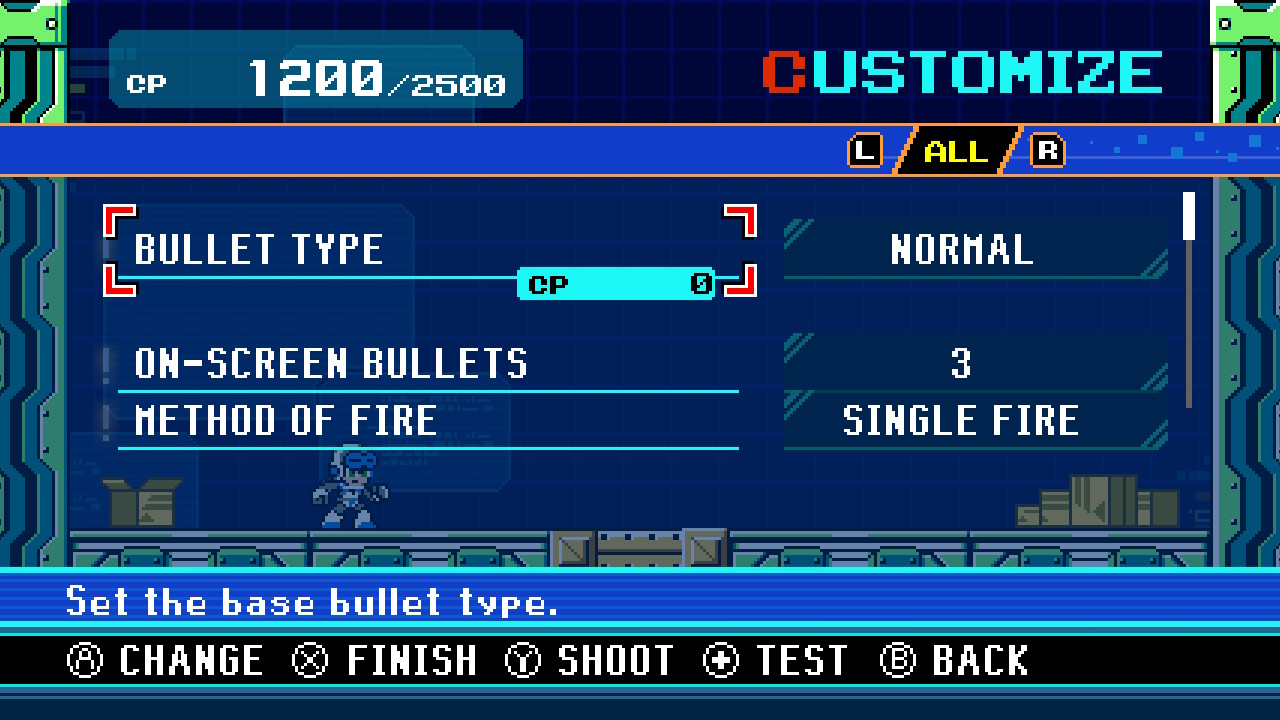 Pixel Stickers
Pixel Stickers are icons that feature 8-bit versions of numerous characters (and more)that are scattered throughout the game. These stickers can be obtained by discovering them as you traverse stages, by obtaining rare drops by defeating enemies, and many other ways too.

HD Rumble Feature on Nintendo Switch
There are many areas in the game that at first glance look like normal walls/terrain, but when you shoot them, they can be destroyed. On the Nintendo Switch version, by using Cost Points on an ability called Dowsing, the HD Rumble feature will kick in when you draw close to a suspicious area. The Dowsing ability goes a really long way when it comes to hunting down hidden items, so make sure you get your hands on the Dowsing module.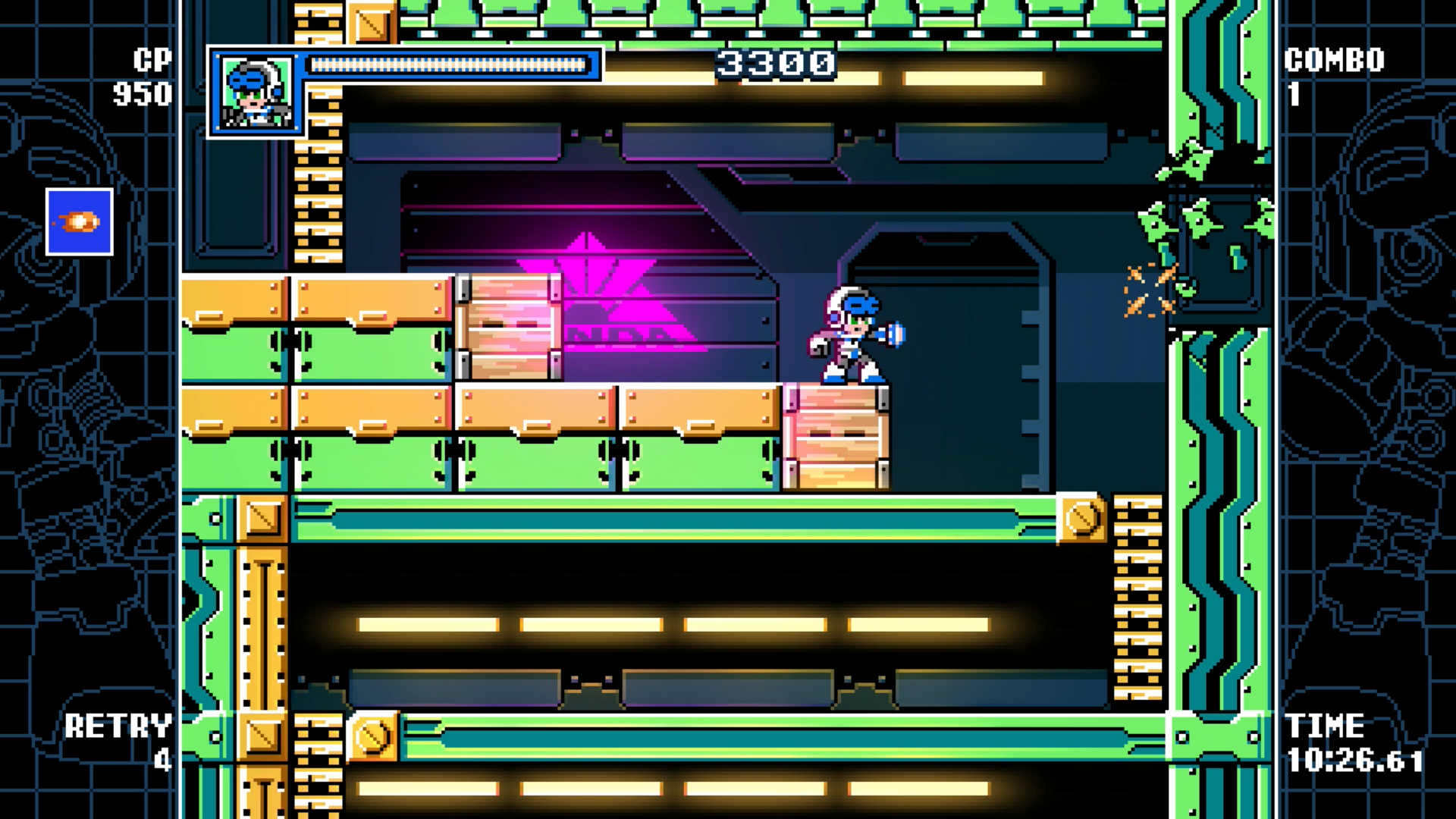 Character Intro – Beck
Beck is a robot created by Dr. White who has the ability to think and feel. His ability to absorb Xel from robots and learn their abilities has been disabled during his virtual reality training session, so he no longer has access to those abilities while stuck in this virtual world. His only weapon is a new armament entrusted to him by Dr. White.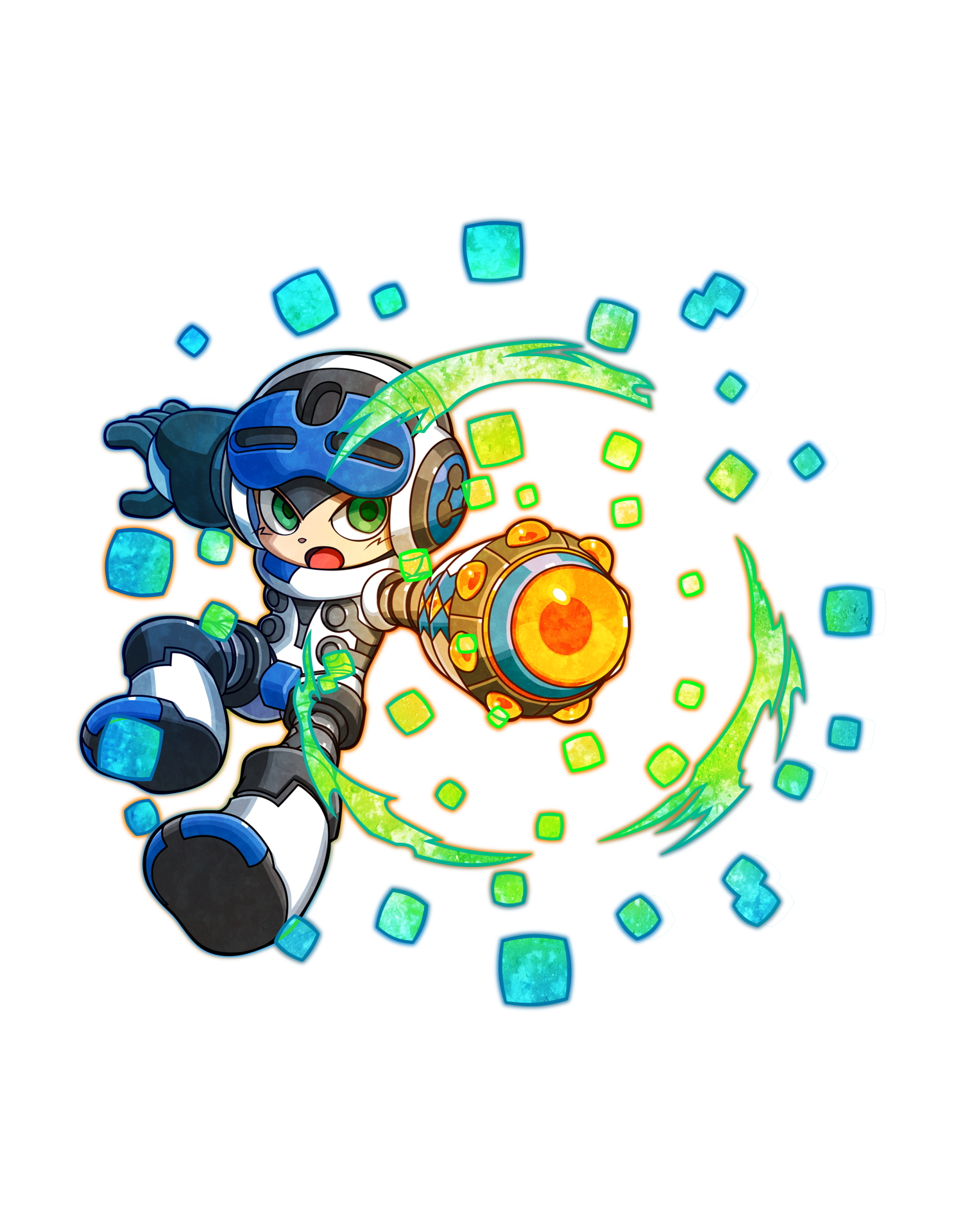 Character Intro – Gunvolt
Gunvolt is an Adept, a person who possesses supernatural septimal powers, who can control lightning. The soul of a girl named Joule, AKA "The Muse", resides within him. Ever since he was brought to this strange new virtual world, his septimal powers have been severely weakened, although his gun and his Astrasphere skill seem to be in order. When Gunvolt is in grave danger, Joule will appear to bestow her protective powers on him.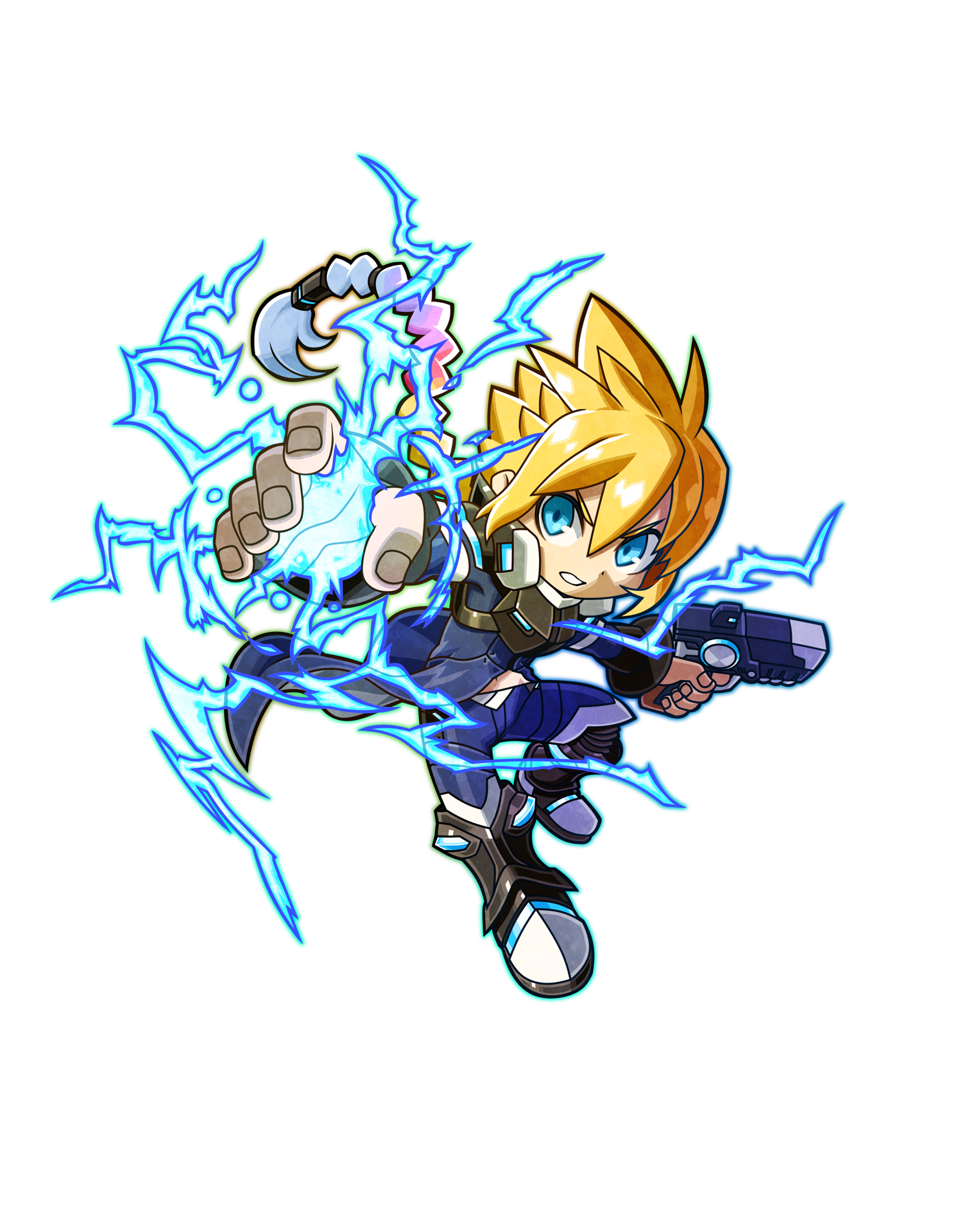 Speaking of Gunvolt, let's have a look at the other game that we announced at Bitsummit: Azure Striker Gunvolt: Striker Pack for Nintendo Switch!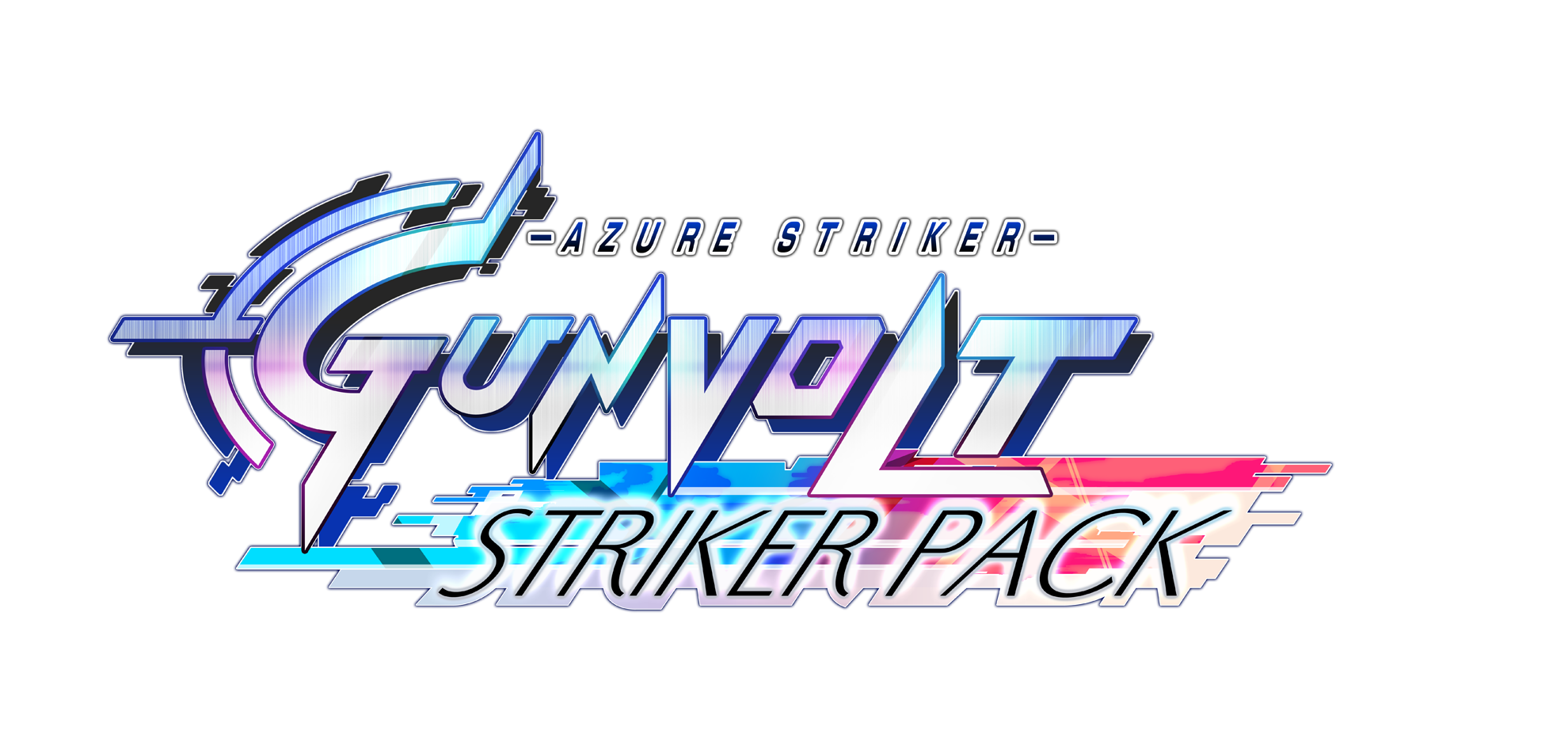 The Azure Striker Gunvolt Striker Pack contains both Azure Striker Gunvolt and Azure Striker Gunvolt 2, two of our flagship games that originally made their home on the Nintendo 3DS. With the release of the Switch version of the Striker Pack, there are a host of new features, improvements, and bonus content that make it the truly complete version of the Azure Striker Gunvolt experience.  Let's take a look at what's in store!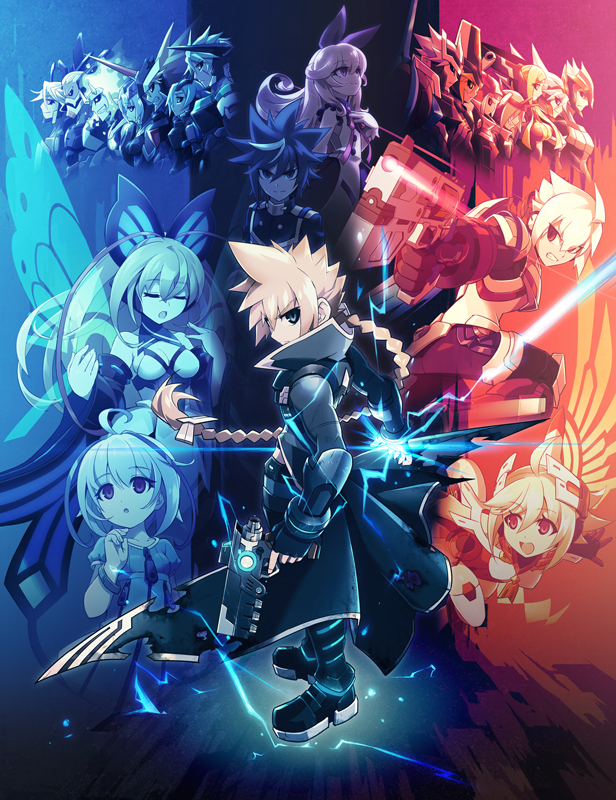 Gameplay Upgraded from 30 FPS to 60 FPS
Since the 3DS game was created with emphasis on the visual aspects of the game, it was only able to run at 30 FPS on that system, but thanks to more powerful new hardware, 60 FPS Gunvolt is here for the first time. The biggest difference between the former 30 FPS and the new 60 FPS can be felt while playing as Copen, the super-quick, high-flying playable character from Gunvolt 2.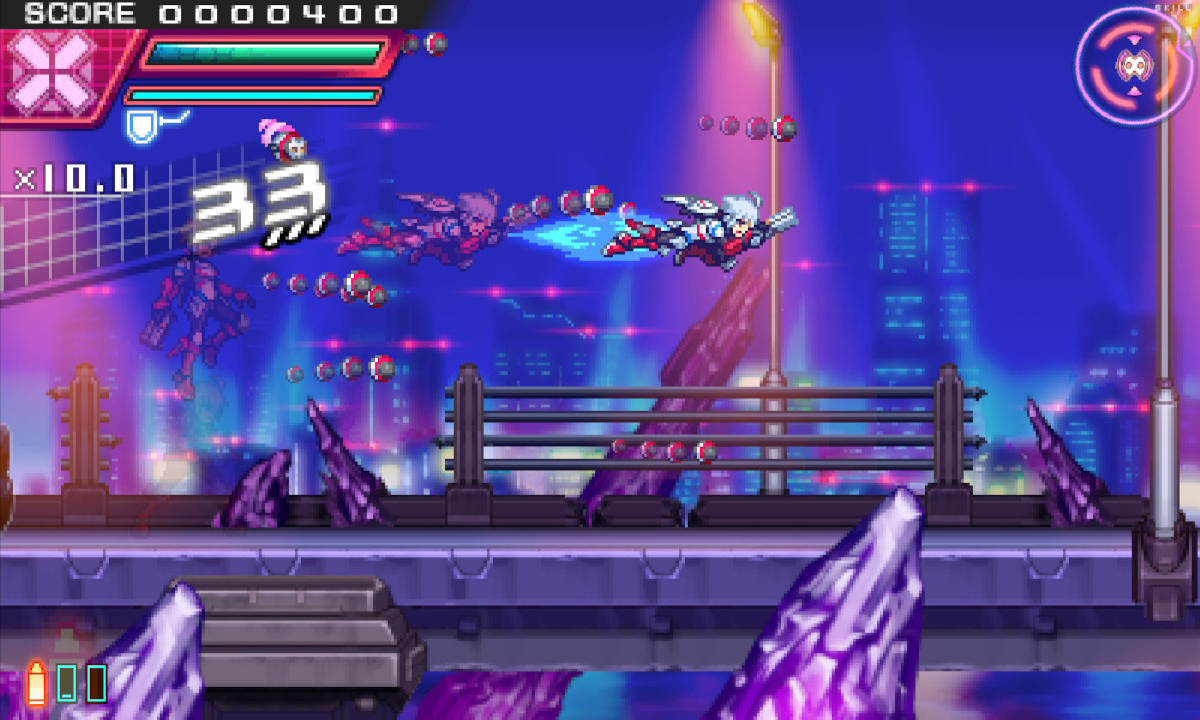 Entire DLC catalog from the 3DS version comes pre-loaded
All of the 3DS version DLC, which includes extra stages and bosses, bonus modes, and new songs, comes pre-loaded with the game.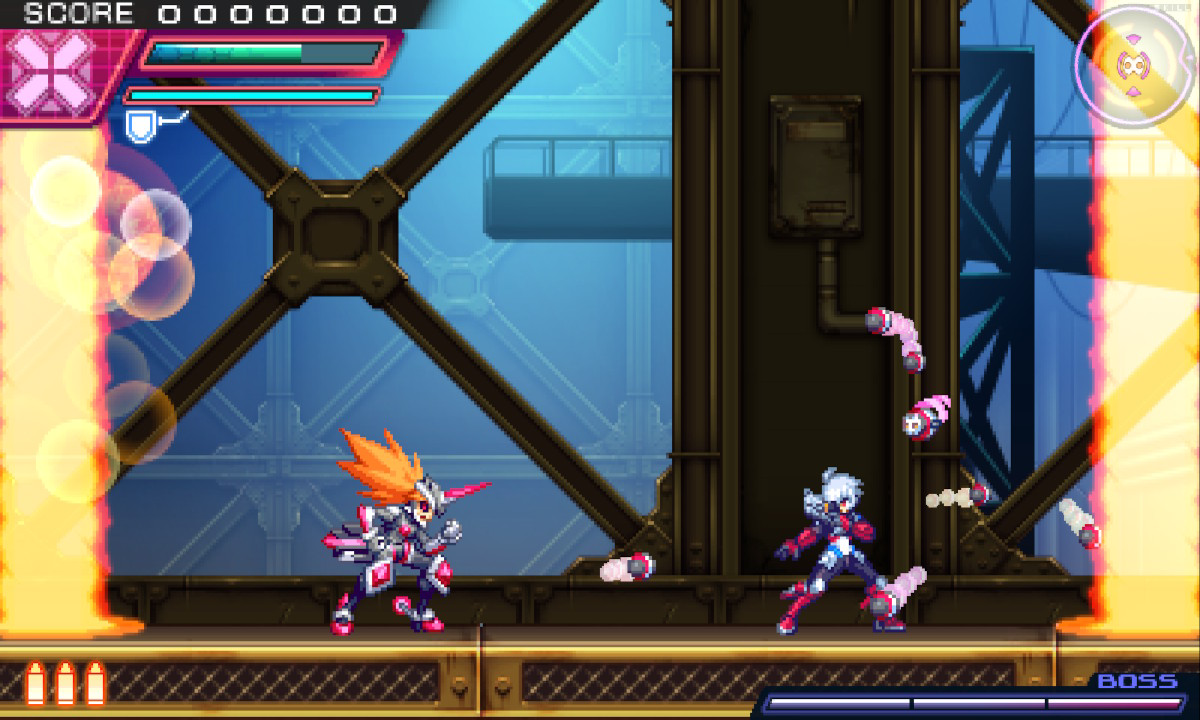 HD Rumble Support
When Gunvolt uses his powerful electrical attacks, the Nintendo Switch's HD Rumble kicks in to bring you even closer to the action.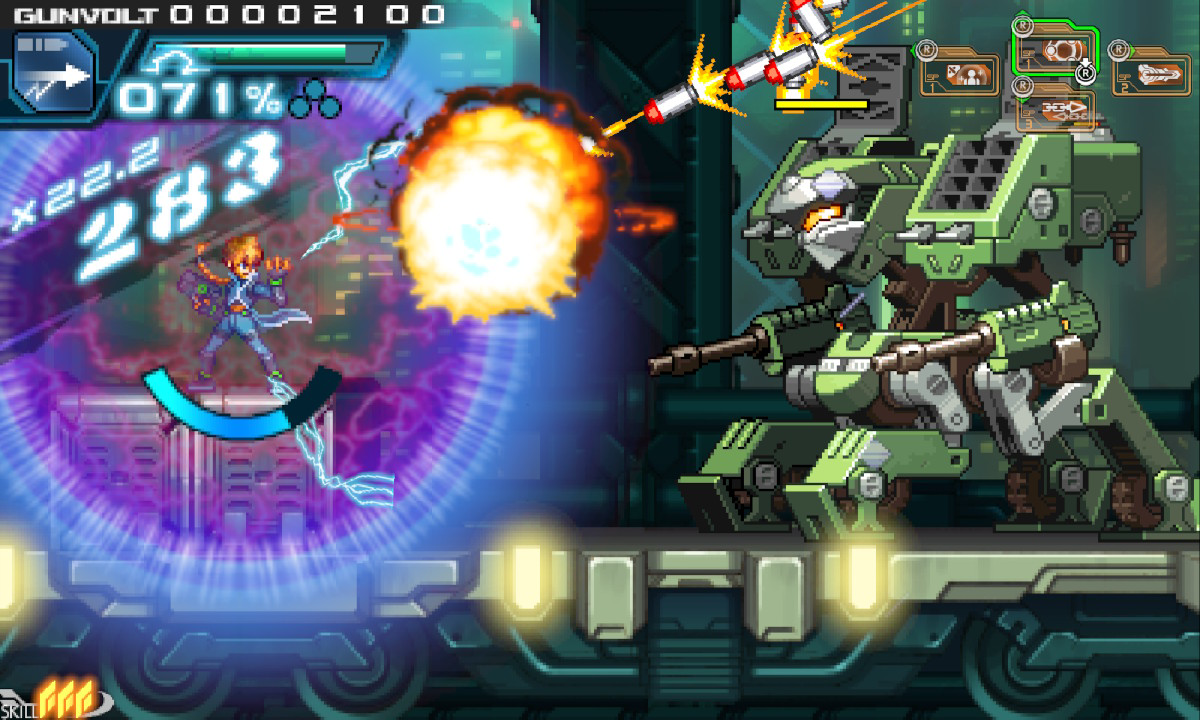 Screen layout has been completely redone
The screen layout has been redone from a two-screen layout on the 3DS to an intuitive one-screen layout for the Switch.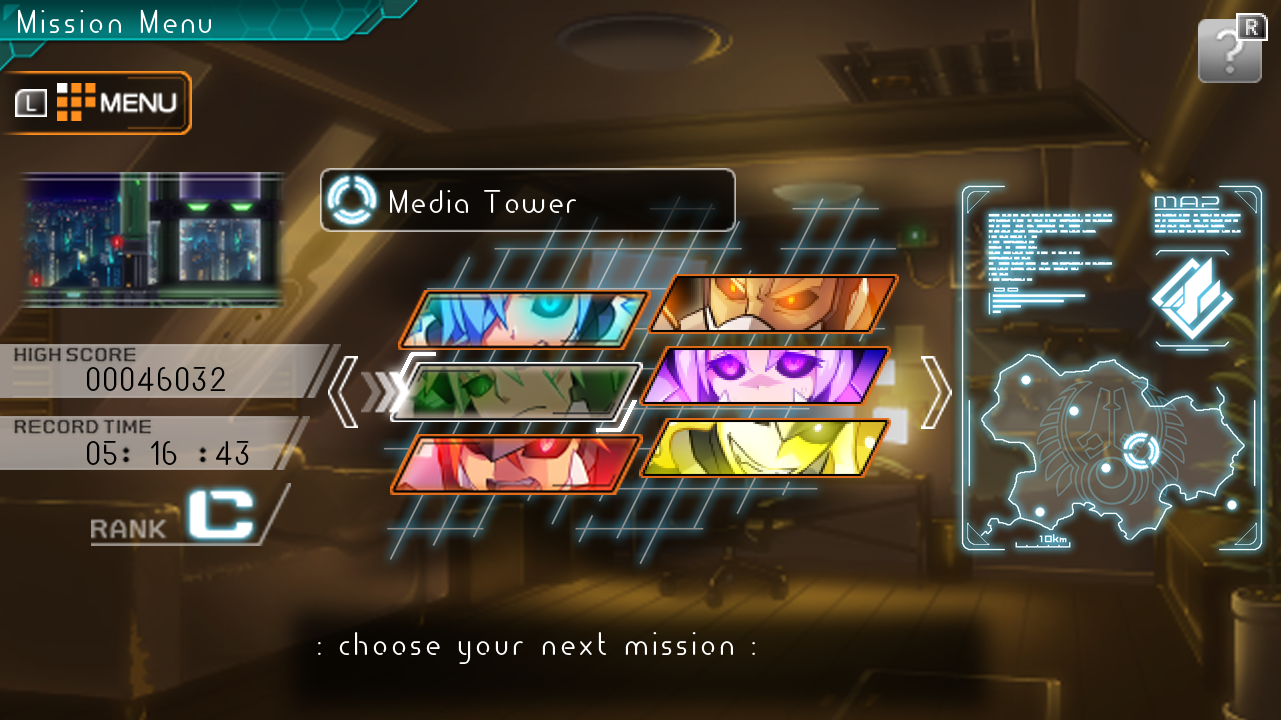 Brand new song for the Nintendo Switch Version
A brand new theme song by the virtual idol Lumen (VA: Megu Sakuragawa) debuts on the Nintendo Switch!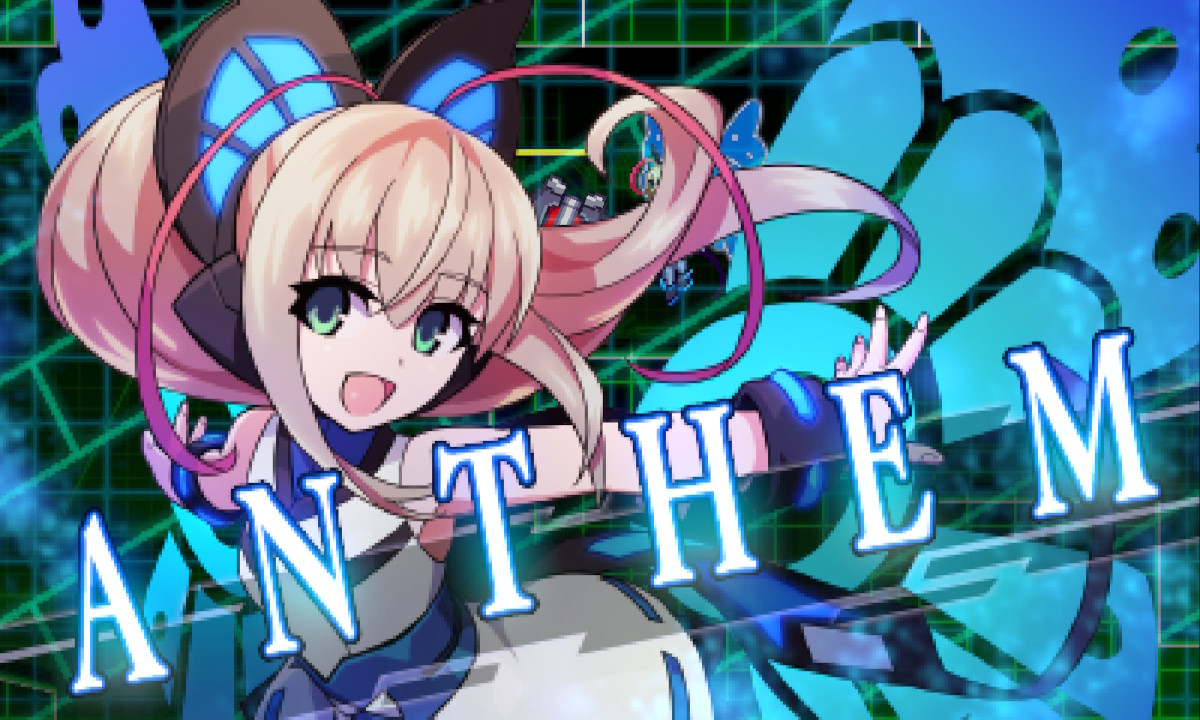 High resolution event graphics and in-game text
On the Nintendo Switch, in-game text is much easier to read and the characters look better than ever in high resolution.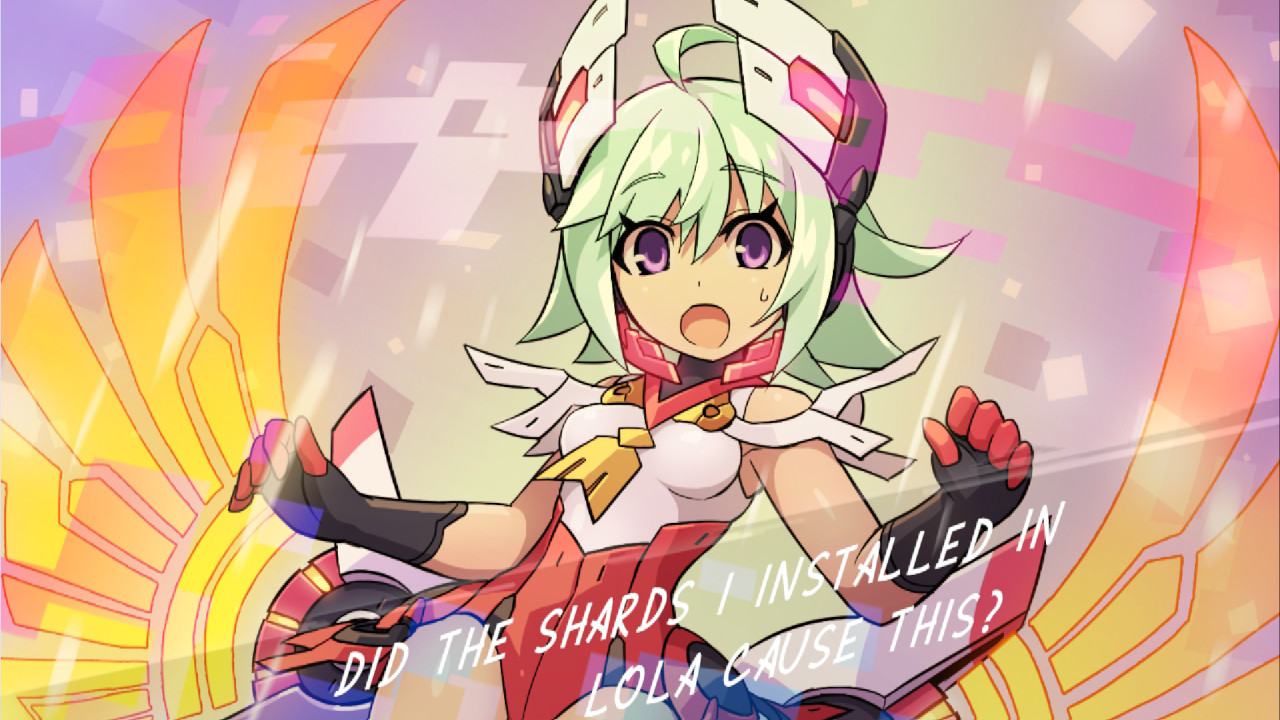 Adjustments to the game balance and general gameplay improvements
The Kudos system from Gunvolt 1 has been changed to the system from Gunvolt 2, adjustments have been made to some stages to balance out the difficulty, and other minor gameplay improvements have been added.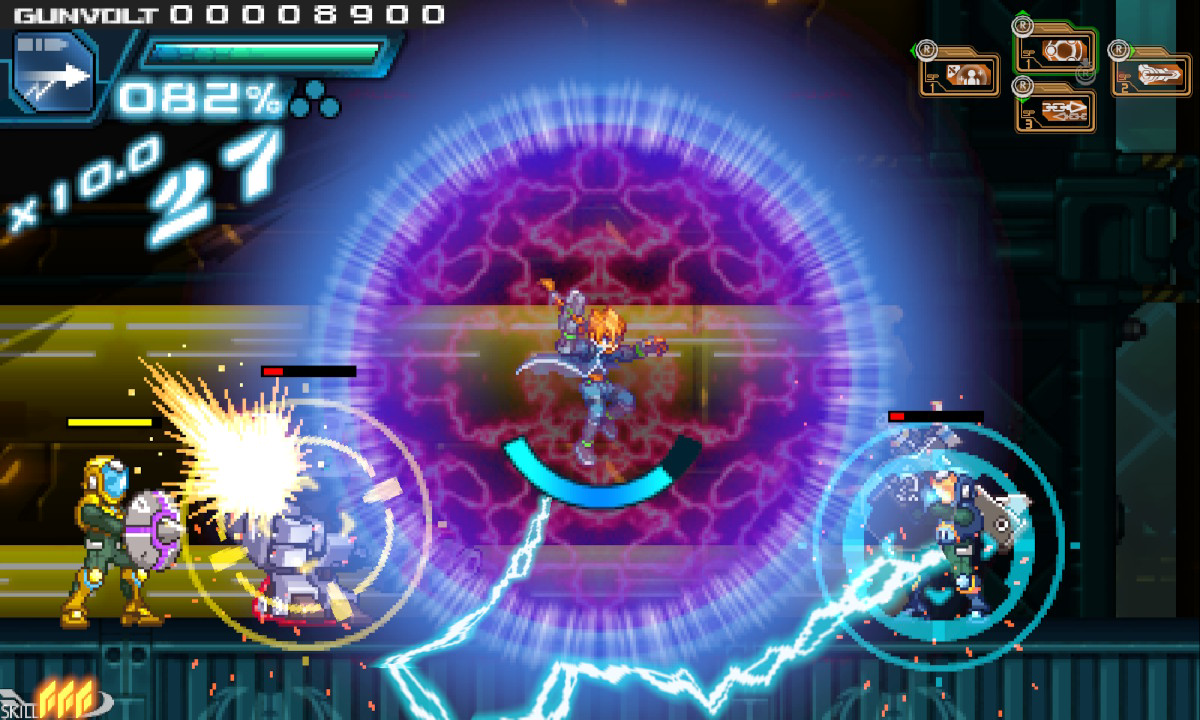 Numerous language settings
Compatible languages: English, Spanish, French, German, Italian, Portuguese and Japanese.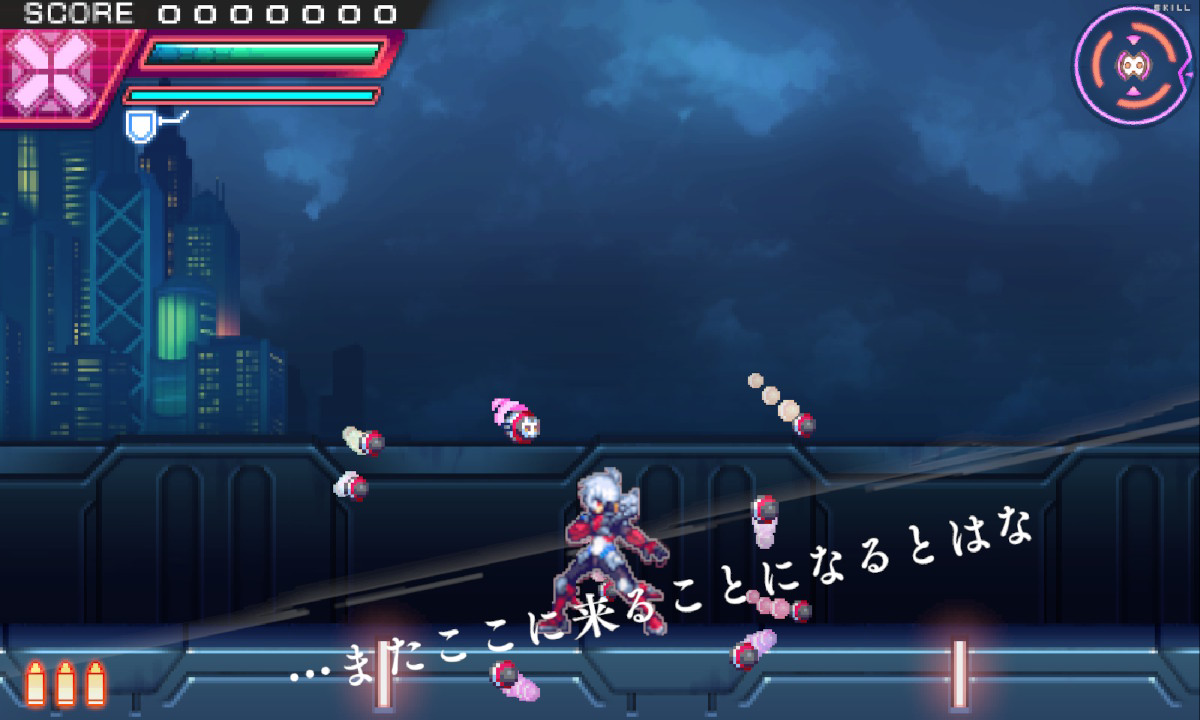 Nintendo Switch Pro Controller Compatibility
Gameplay feels especially satisfying on the Nintendo Switch Pro Controller.
For more information, please visit the Mighty Gunvolt Burst official website and the Azure Striker Gunvolt Striker Pack official website, and of course, have a look at the trailers below!