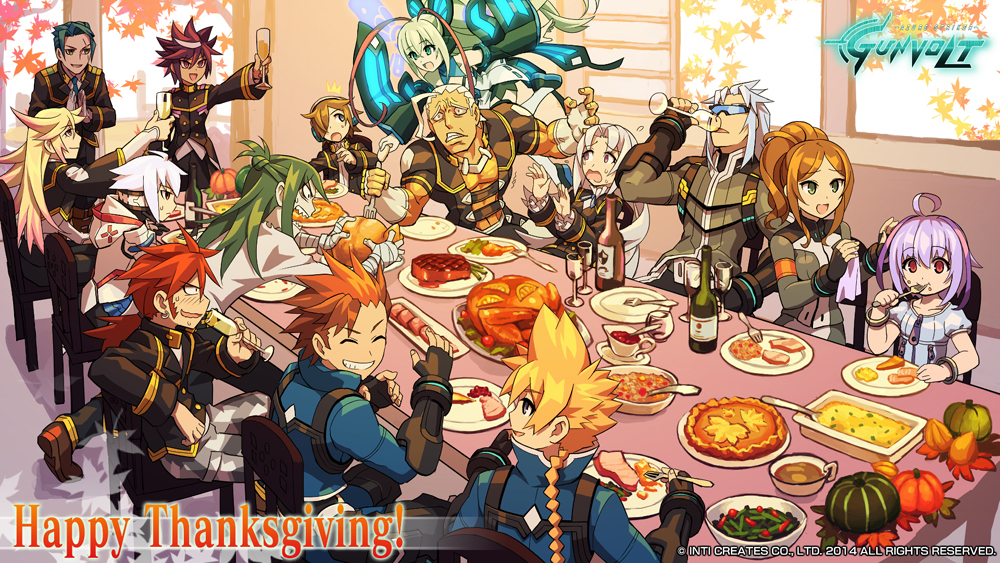 A hearty, healthy, and happy Thanksgiving to all of you from us here at Inti Creates! Since Thanksgiving is a time where you are supposed to give thanks, we wanted to thank our amazing fans with our own little festival stuffed full of Gunvolt goodness: Gunvolt Festa!
Just what is Gunvolt Festa, you ask? Great question! This coming Friday at 9AM PT, Mighty Gunvolt goes on sale as a stand-alone game for $3.99. While that is awesome in of itself, we have lots of announcements in store for you to celebrate Gunvolt Festa!

Thanksgiving Themed Wallpaper
First and foremost, how awesome is that wallpaper?! From Mr. Hatakeyama's masterful hand, we have the cast of Azure Striker Gunvolt sitting down to a super yummy Thanksgiving feast! This wallpaper can be downloaded from the Azure Striker Gunvolt homepage in various sizes! Are they chowing down on any of your family's Thanksgiving staple food choices?
Azure Striker Gunvolt 3DS Themes
Hey, speaking of wallpapers, how about some shiny new wallpaper (and more) for your 3DS? That's right, not one, but two Gunvolt themes will be available on the Nintendo 3DS eShop this Friday November 28th for $1.49!
The first theme features Gunvolt standing loud and proud, with sound effects straight from the game, and the Stage Select BGM "Formulate the Battle Plan" playing in the background.
Next we have the trio of heroes from Mighty Gunvolt, with 8-bit sound effects from the game, a chiptune version of the BGM "Formulate the Battle Plan", and a dynamic scrolling effect that moves the characters as you scroll along the bottom screen!
Version 2.0.0 and DLC Release Date
BOOM! SURPRISE! Fresh from the source, we have just been cleared to announce that Version 2.0.0 and the DLC will release alongside Mighty Gunvolt as a stand-alone game November 28th. In the meantime, while the official Mighty Gunvolt website is packed full of information about the update and DLC,  we wanted to give you a bigger taste of the action, so enjoy a brand new trailer with a message from Keiji Inafune!
For the second part of Gunvolt Festa, we have one more bit of information to announce to you coming this Friday! Be on the lookout for it! 🙂
We hope you enjoy all of the new Gunvolt content, and have a supercharged Thanksgiving!
– Inti Creates Staff