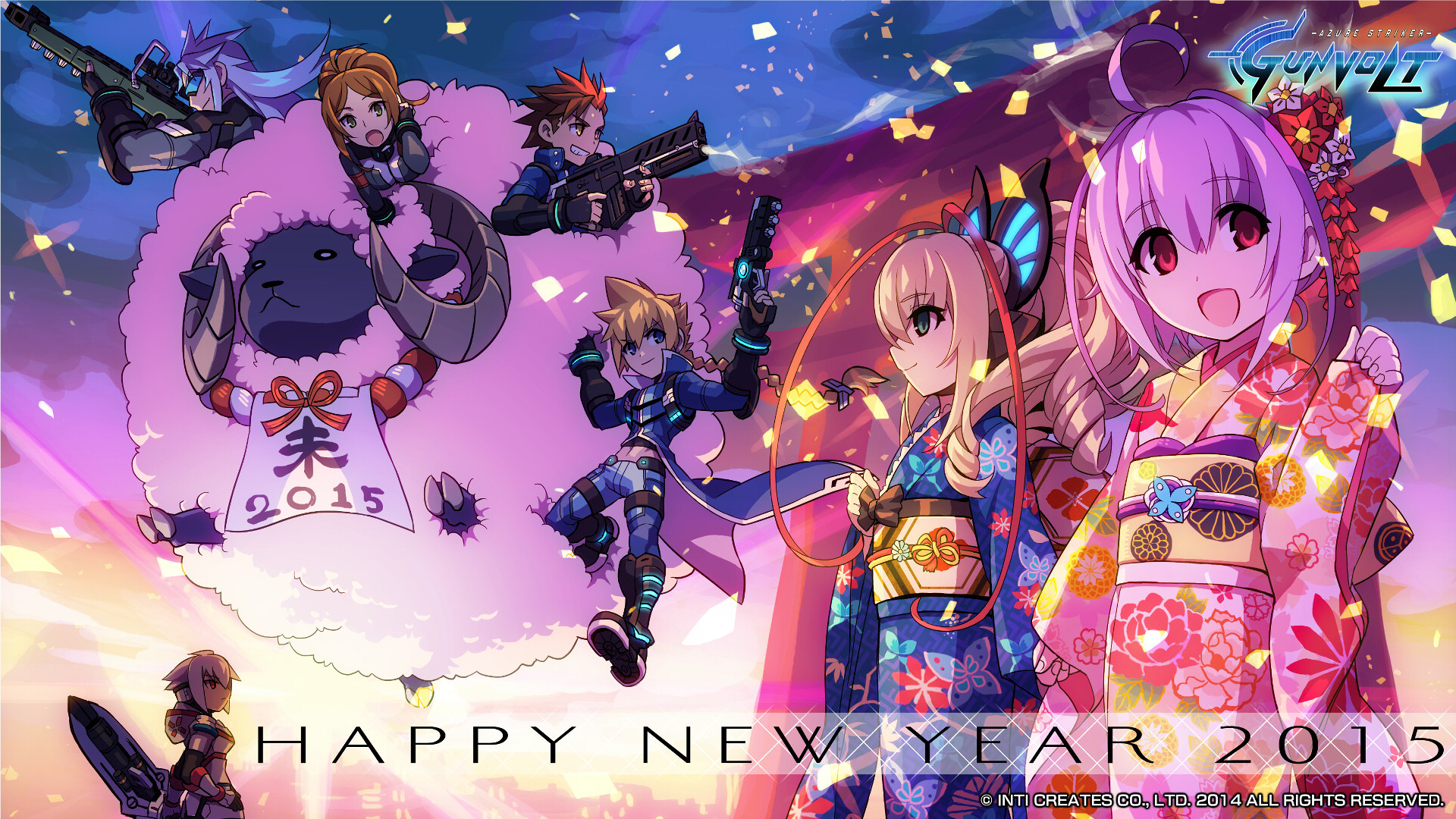 A very happy new year to one and all! Last year was a very big year for us as a company with the release of our very first self-published game Azure Striker Gunvolt, and we are so excited to be back in the office after winter vacation to kick off 2015 as best as we can!
Naturally since the new year holiday is a cause to celebrate, this means the above brand new wallpaper is available on the official Gunvolt website!  Joule and Lumen look absolutely gorgeous in their kimonos don't they? I wonder if the Super Fluffy Floating Ram will be QUILL's new mode of transportation in the future…
Now, some news on the Europe/Brazil front. First off, I want to thank all of our fans in these parts of the world for being so patient with us as we strive to get these games released there as soon as possible. We want to reassure everyone that we are doing everything we possibly can to get this game out to you quickly and efficiently. The European version is still in the hands of PEGI for rating, and as soon as they finish on their end, we'll have a significantly better idea of when we can determine a bona fide release date. What we can tell you is that both versions will be released around the same, though. As always, we will post any new information here and on social media as soon as we receive it.
Finally, in case you missed our announcement on our social media accounts a few days ago, to go along with the new year festivities, we teamed up with US based gaming apparel company Level Up Studios to give Gunvolt fans around the world access to officially licensed Gunvolt merchandise previously available only in Japan through our Japanese website.
We're kicking things off with t-shirts (available in Mens and Ladies sizes) and buttons just like we have on the Japanese store, AND a Level Up Studios exclusive Azure Striker Gunvolt zip-up hoodie! All items are now available for pre-order with shirts/hoodies shipping on 1/7 and buttons shipping on 1/14.
Thank you all again for being the most awesome fans ever! I look forward to connecting with you all in 2015! As we say in Japanese, "yoroshiku onegaishimasu" (I look forward to working with you)!
Matt Papa
International Affairs Coordinator