Happy 5th Anniversary, Blaster Master Zero!
On this day in 2017, the first Blaster Master Zero game launched on Nintendo 3DS and Switch in Japan. Blaster Master Zero is 5 whole years old!  Here at Inti Creates, we're celebrating this momentous occasion in a bunch of different ways!
Jason in Luminous Avenger iX 2
First off, Jason Frudnick is blasting into Gunvolt Chronicles: Luminous Avenger iX 2 as a DLC boss fight! This exciting cross-over will be available March 10, 2022 for $7.99/€6.99 on all iX2 platforms!
Series Sale
We're also hosting a sale on the entire trilogy! Find the games for up to 50% off on Steam and the Nintendo eShop! Going on now until March 9th!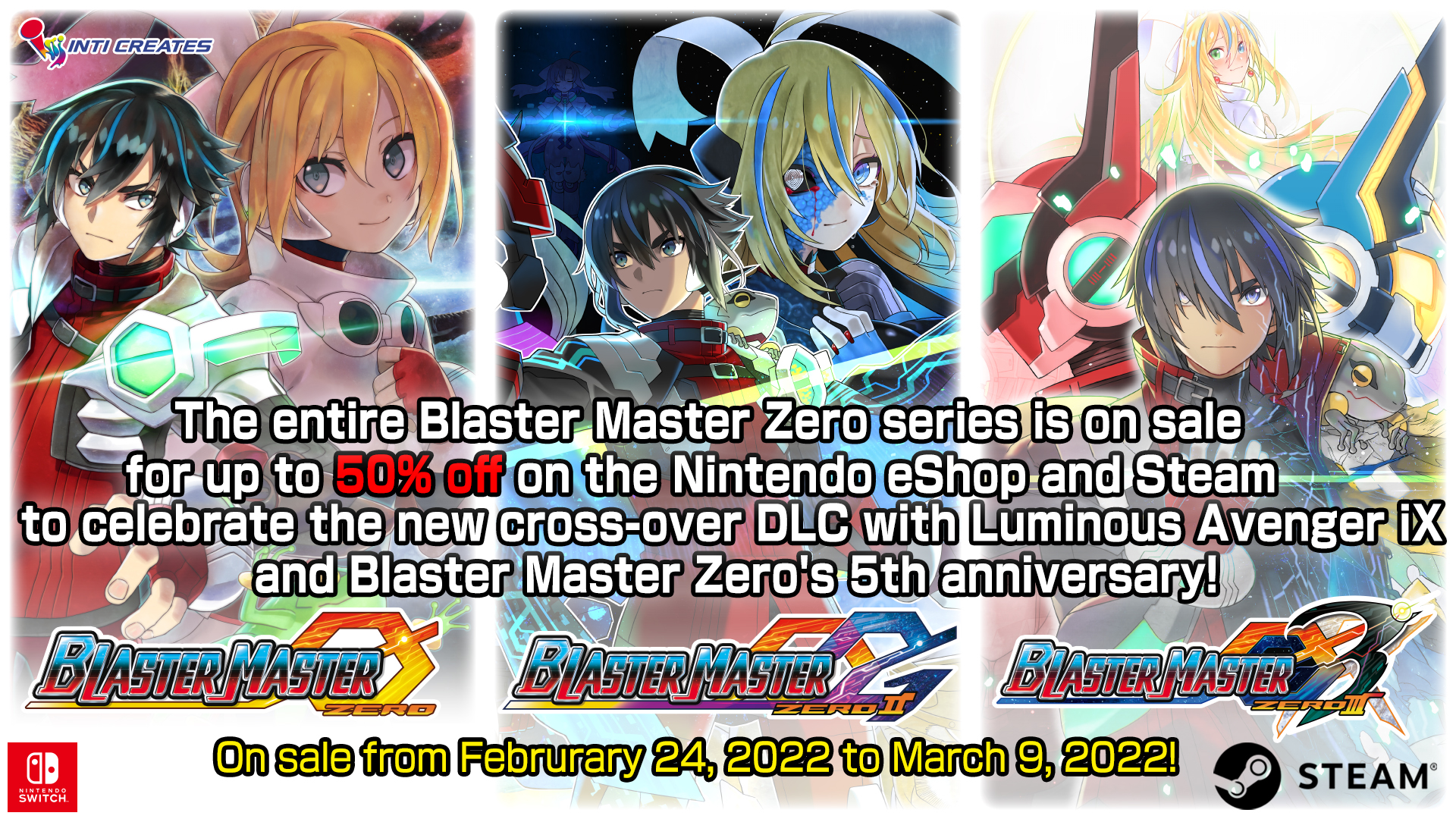 Exclusive Wallpaper
We're also excited to present to fans an exclusive wallpaper from series character designer Yuji Natsume! Get the download now at the official BMZ3 website! http://blastermaster-zero.com/en/zero3/special/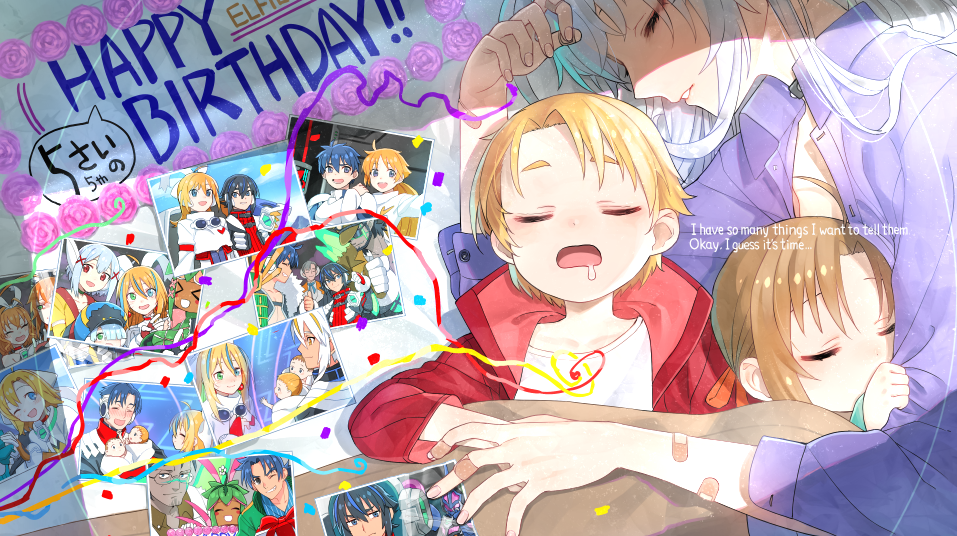 Congratulations Message Card
And finally, we have a special message card from tons of staff and others involved with the series! Check it out for messages from the director, designers, producers, and even voice actors! Plus plenty of cute and cool exclusive drawings! The full image is followed by translations of all the messages.
Thanks again to all the fans for making the series what it is today!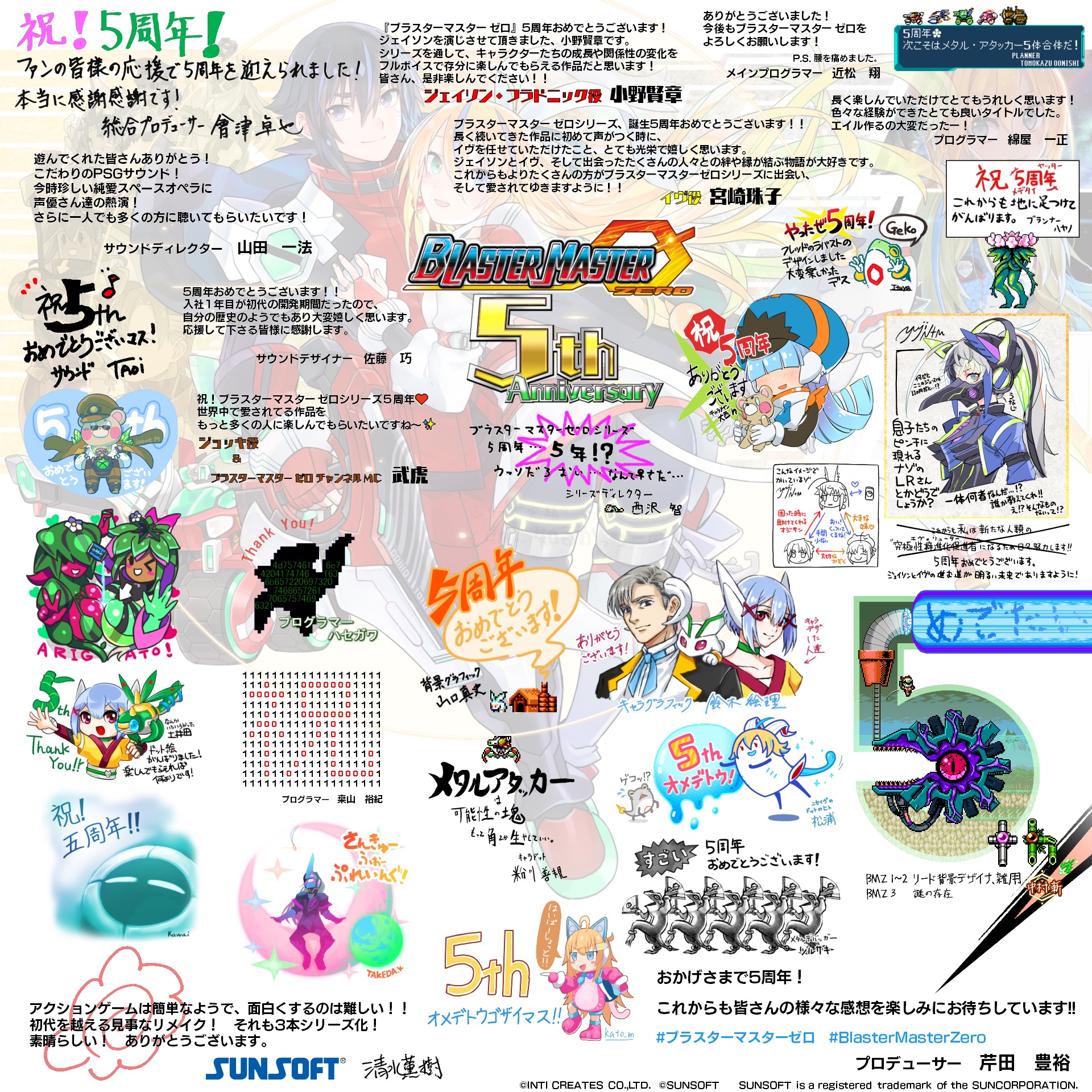 コメント翻訳リスト_完成版

About Blaster Master Zero
For those unfamiliar, Blaster Master Zero was a remake of the classic SUNSOFT game, as well as a reboot into a new series! Starring young science genius Jason Frudnick aboard the Metal Attacker SOPHIA-III, his trusty frog (?) Fred, and the mysterious Eve, it quickly found an audience of both fans of the original and players brand new to the franchise.
In 2019, Blaster Master Zero 2 saw Jason launch into outer space on a journey across dimensions, directly following Blaster Master Zero's story. Jason encountered many new faces, including the pilots of other Metal Attackers and their partners, greatly expanding the Blaster Master cast and universe.
Jason's thrilling saga came to an exciting climax in Blaster Master Zero 3, as the worlds of "Blaster Master" and the original Japanese "Chou Wakusei Senki Metafight" collided head-first on the planet Sophia! Jason would encounter friend and foe, both old and new, on the planet which served as the stage for the original "Metafight" game that gave birth to the series. I hope all the fans out there have gotten a chance to play it!