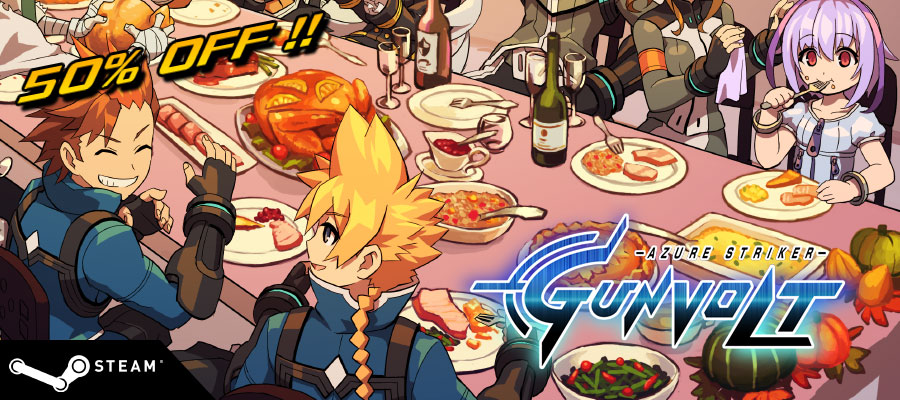 It's officially the holiday season now, so in addition to the 50% off sale that we currently have going on for Azure Striker Gunvolt, we have a new update as well! With the 3rd monthly update to the Steam version of Azure Striker Gunvolt, we added some holiday cheer to the Gunvolt's world in the form of "Christmas Mode"! That's right, Sumeragi facilities have been transformed into their own winter wonderlands! Here's a rundown of what you can expect in the new Christmas Mode:
What is Christmas Mode?
The world of Gunvolt has been transformed into a winter wonderland is this brand new gameplay mode! When you visit the opening stage, and the stages for Merak, Jota, Viper, Carrera, Elise, and Stratos, you will get to experience their stages in a whole new way! The weather outside is indeed frightful, but that's OK because by the look of things, Santa must be a huge Gunvolt fan, because he is raining down presents for you to acquire! Of course, since it's so chilly and snowy outside, the floors maaay be a teensy-weensy bit slippery 😉 Keep your ears open for a new song too!
There will also be a dedicated Christmas Mode leaderboard too, so make you collect as many of Jolly Ole Saint Nick's presents as you can, since this leaderboard will rank you based on the number of presents you can obtain! So, to recap:
The world of Gunvolt is now a snowy winter wonderland!
Collect as many presents as you can!
Caution: Floors may be slippery
New special background track for the themed stages
Christmas Mode leaderboards rank those who obtain the most presents
And that's that! We hope you enjoy the new Christmas Mode and have a super rad holiday season! 😀 To see the new update in action, click the video below!