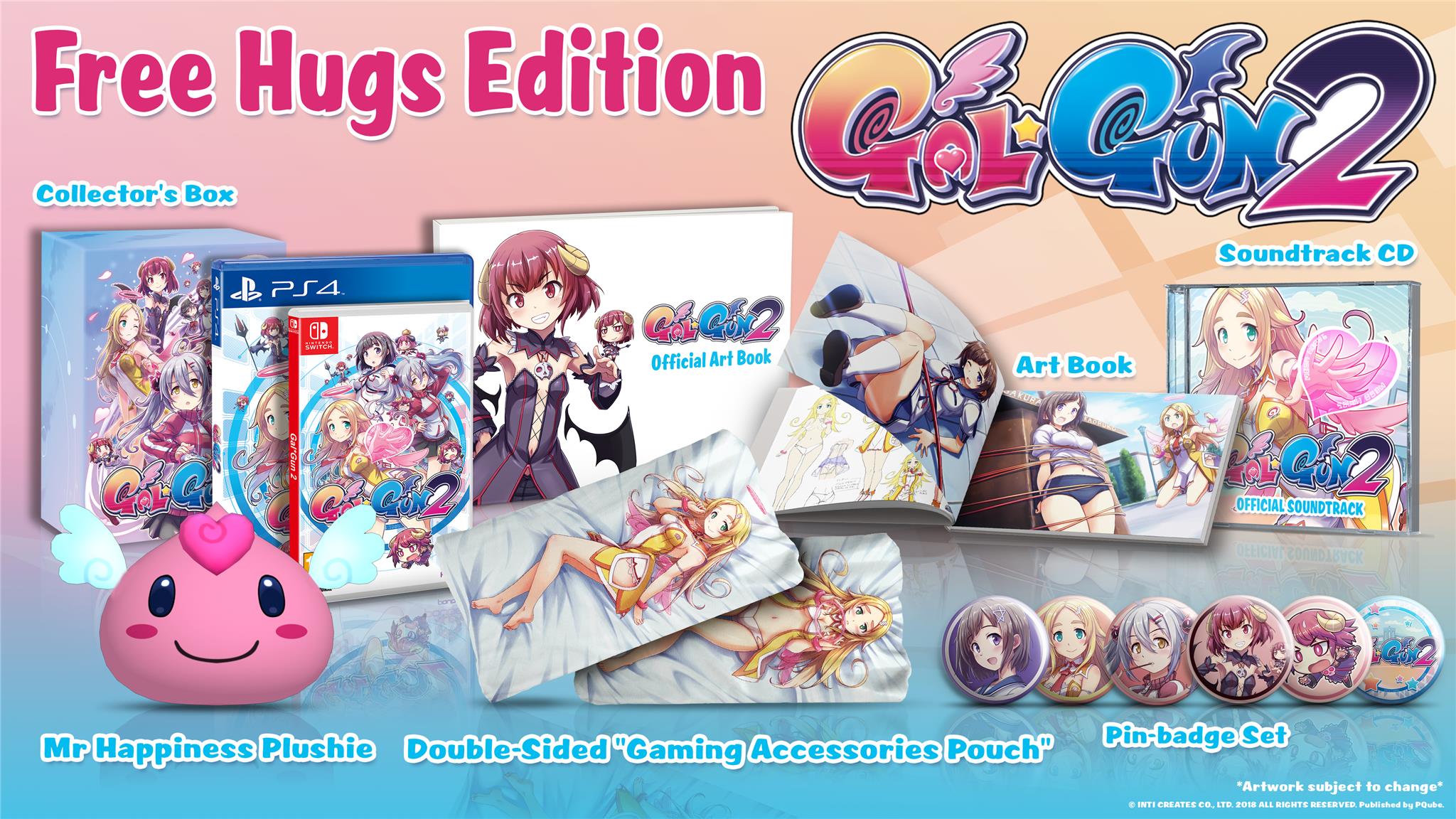 Dear Gal*Gunners of the world, the time has finally come! Our friends at Rice Digital are back once again bringing you fine folks a Gal*Gun 2 collectors edition that is truly befitting of its name: The Free Hugs Edition! For a long time, the silly minds at Inti Creates and Rice Digital put their heads together to figure out if there's a way we could top Double Peace's "Mr. Happiness Edition" and the all-star item in that set, the legendary "screen cleaner." Do you think we succeeded? Have a look at the official press release from Rice Digital and decide for yourself!
——————————————————————————
RICE DIGITAL, Bristol (17th January 2018) – We're mega stoked to finally be able to reveal the Rice Digital Exclusive Collector's Edition for GAL*GUN 2 – the Free Hugs Edition. This Collector's Edition will be releasing alongside the standard edition in 2018, and is exclusive to our online store.
View in the Rice Digital Store! North American & European versions available!
We've been working on the GAL*GUN 2 Free Hugs Edition for some time, and are super excited to be able to share it with all the other GAL*GUN fans out there! Consider this our hug to you! And yes, we're offering both PEGI-rated EU copies of the game, and ESRB-rated US copies of the game. Free hugs for everyone!
The Rice Digital Exclusive GAL*GUN 2 Free Hugs Edition includes:
A copy of the game for either PlayStation 4 or Nintendo Switch
High quality presentation collector's box
Official art book
Official soundtrack CD
Huggable Mr. Happiness plushie
Pin-badge set
Double-sided "Gaming Accessories Pouch"
Pre-Orders are live on Rice Digital now!
GAL*GUN is back for an adventure more outrageous than ever before! A new army of girls has been overpowered by lust in THE FULL-FRONTAL SEQUEL to Japan's most infamous shooter. Fend them off with your Pheromone Shot and use new gadgets to expel demons from their bodies in the most audacious first-person shooter you'll ever play!