We hope you folks like surprises!!
That's right Gal*Gun faithful, on the cusp of our annual Obon summer vacation, we bring you the long awaited Gal*Gun VR, and it's available RIGHT NOW on Steam!! The Gal*Gun team has been working like crazy to bring you this game before we break for summer vacation, and we couldn't be happier to share the game with the world today! Like what you see? No need to wait! You can head over to Steam and get it right now for your HTC Vive or Oculus Rift VR headset!
Let's see what Gal*Gun VR has to offer!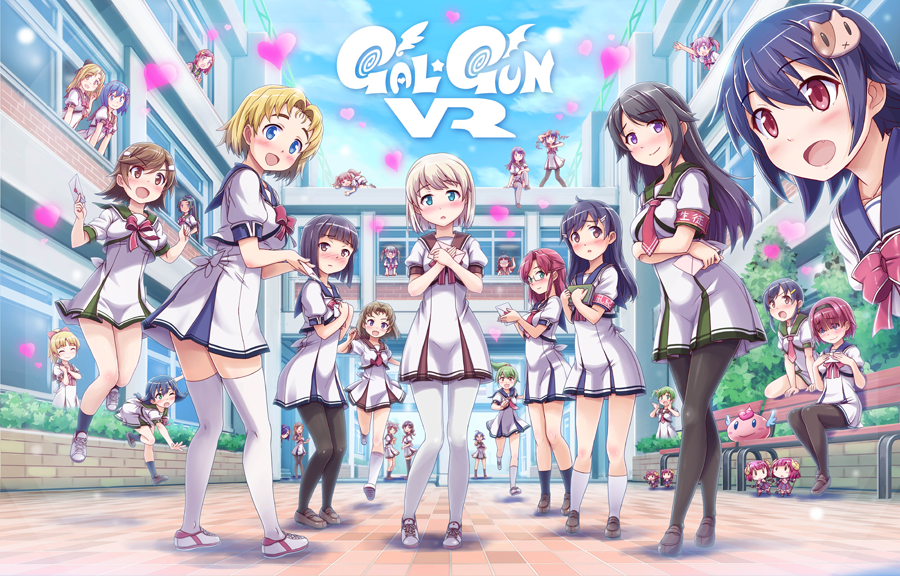 The Gal*Gun series comes to VR!
This is exactly the kind of game that VR was designed for! In Gal*Gun, virtual reality truly *is* better than reality! Experience the joy of being surrounded by beautiful girls, only this time, you can enjoy this world from every angle!
Aim for girls' weak spots to give them euphoria!
You have goals to achieve, so you can't just end up with the first girl who leaps into your arms, right? This is where your trusty Pheromone Shot comes into play! Use this shot to give incoming girls euphoria, and protect yourself from their confessions of love as you make your way through the stages.
Different girls have different weak spots– shoot these spots and you'll get an "Ecstasy Shot," instantly giving the girl euphoria and increasing your score.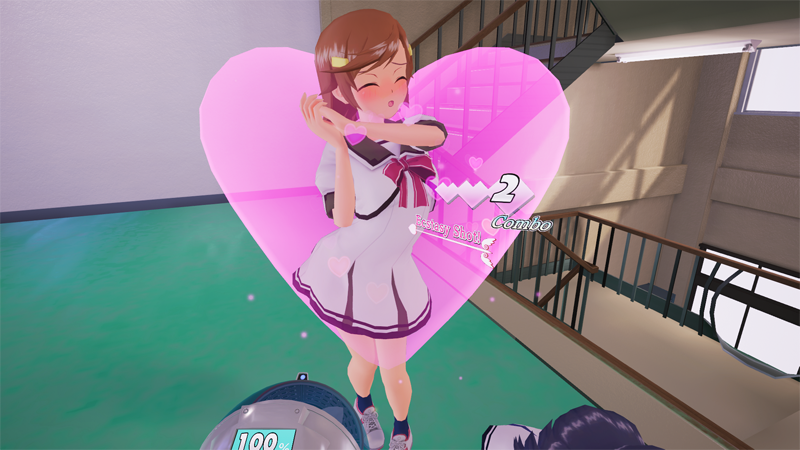 Use the new "Demon Sweeper" to bust some demons!
The demons from Gal*Gun Double Peace are back in full force, and causing trouble wherever they go! Fortunately, you now have a new tool to help you defeat them: the Demon Sweeper! Shoot demons that are possessing girls to knock them off, then suck 'em up with your Demon Sweeper!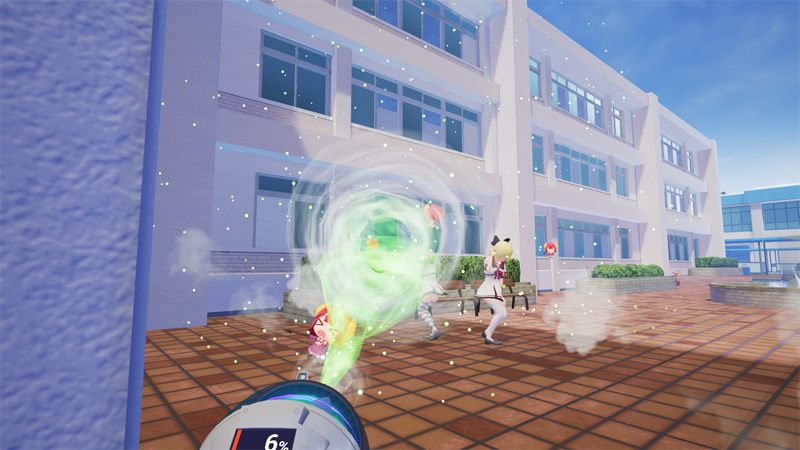 Look deep into girls' eyes to make them "Lovestruck"!
If you get up close and personal with the girls and look deep into their eyes, a special gauge on your sight will start to fill up.
As the gauge fills up, the girls become "Lovestruck."
While they are "Lovestruck", shooting them anywhere will count as an "Ecstasy Shot", and any other girls standing near the Lovestruck girl will get caught up in the effect and receive euphoria.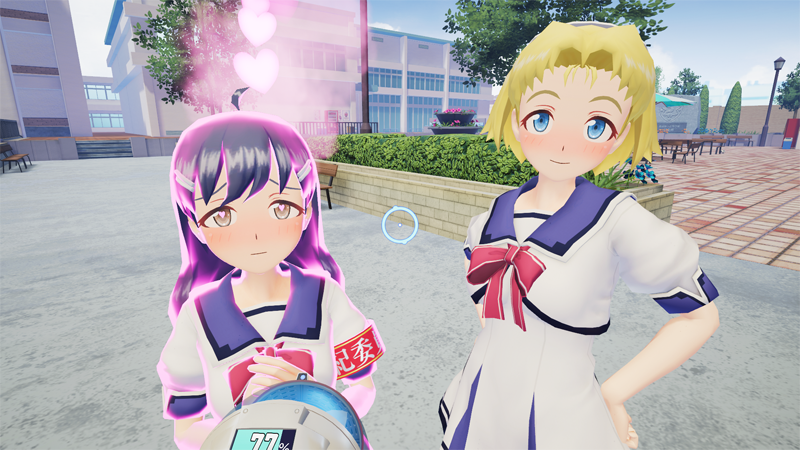 Invite girls over to your house!
After a long day of fending off totally lovestruck girls and demon busting at the academy, it's time for some one-on-one time with a girl you like! Invite them over to your pad to interact with them and learn more about them, such as what kind of panties they wear!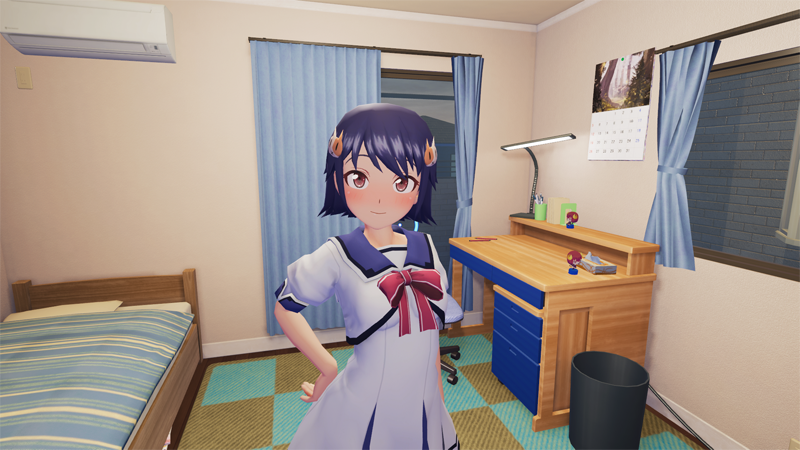 Capture your finest moments on film!
Press and hold the grip button to equip your camera, then press the trigger button while your camera is equipped to take a picture.
If you manage to snap a photo of a girl's panties, you'll unlock a special achievement! Every single girl's panties has its own achievement, so get those cameras ready and see if you can collect them all!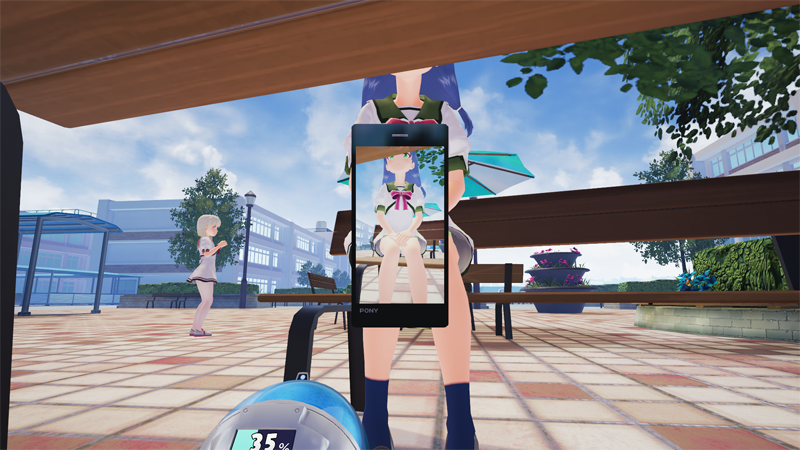 Change clothes to keep things fresh!
All of the girls in the game can change their clothes, with many options to choose from! From series staples like school uniforms, gym clothes, and school swimsuits, to newcomers like teachers' outfits and competition swimsuits, you can pick all of your favorites!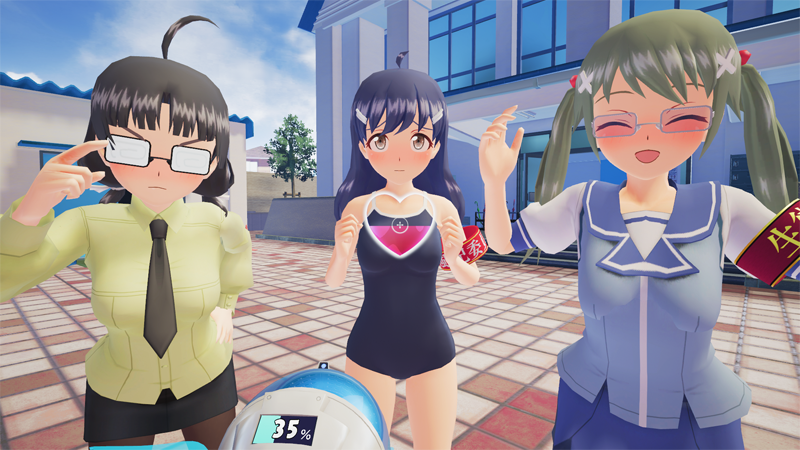 This is what VR was made for, ladies and gentlemen! We hope you enjoy your virtual dive into the world of Gal*Gun!
For more information about Gal*Gun VR, check out the trailer below, and visit the Gal*Gun VR official website and Gal*Gun VR Steam page!