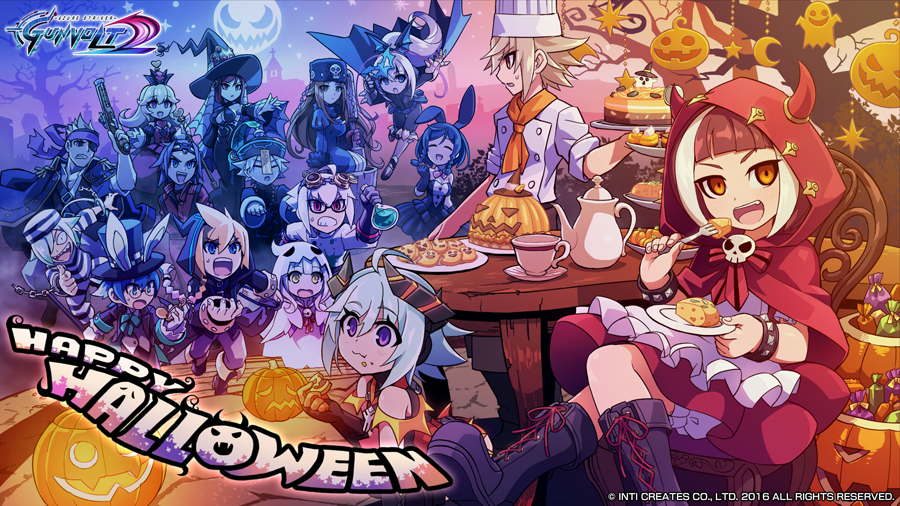 Happy Halloween, Strikers! A few weeks ago, we held a contest on our Facebook and Twitter to determine who fans around the world would want to see featured in our new Gunvolt 2 Halloween wallpaper, and here is the amazing result!
Our contest winner Gibril takes the spotlight alongside the runner-ups Lola and Asroc. Did the cast of Gunvolt 2 dress up in the type of outfits you thought they would? What costumes would YOU like to see your favorite characters wear? For your reference, here is a list of what everyone is wearing:
Gibril – Red Riding Hood / Devil
Lola – Demon
Asroc – Patisserie
Xiao – White Rabbit (Alice in Wonderland)
Gunvolt – You're a Wizard, GV!
Mytyl – Ghost
Teseo – Prisoner
Copen – Mad Scientist
Milas – Pirate
Zonda – Queen of Hearts
Ghauri – Michael Jackson (Thriller ver.)
Nori – Witch
Tenjian – Jiangshi
Desna – Baba Yaga
Joule –  American Comic Book style Hero
Quinn – Bunny Girl
You can download the wallpaper from the official Gunvolt 2 website!