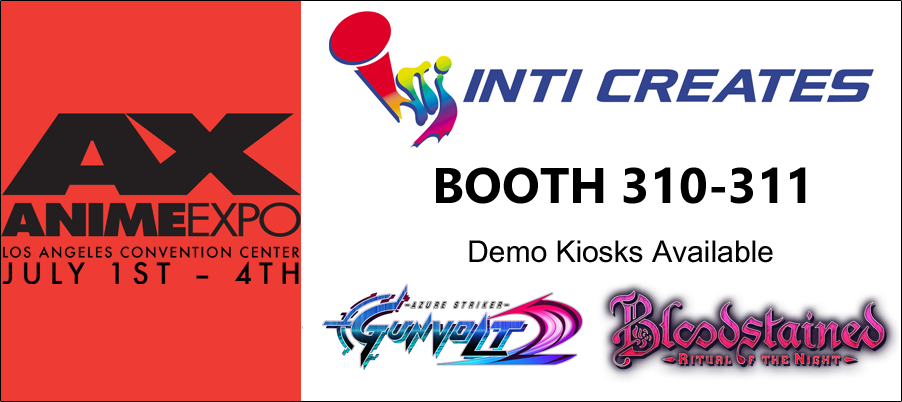 That's right, we're going to Anime Expo for the first time ever, and we will have the biggest presence we have ever had at a show outside of Japan…ever! We will have a double-sized booth on the show floor, and by our powers combined with our Gal*Gun publishing partners at pQube, we will have even more awesome stuff at the show! Here's a full breakdown of all the Inti Creates stuff you'll find at Anime Expo 2016!
BOOTHS
Inti Creates Booth (Booth # 310-311)
Missed out on the Inti action that we had available at E3? No worries then, because you will be able to play the Azure Striker Gunvolt 2 and Bloodstained Ritual of the Night demos that we had at E3 at our Anime Expo booth! Demo kiosks for each game await! Who knows, there could even be more in store for our AX booth…
pQube / Rice Digital Booth (Booth # 815-816)
These guys are pulling out all the stops with their fully loaded Gal*Gun Double Peace presence at the pQube booth! Demo the game (which is coming out on 7/19 in NA and 7/15 in EU!!), and pick up some awesome limited edition Gal*Gun swag while you're at it!
PANELS
Creating New Games With A Retro Flair (Keiji Inafune & Inti Creates) – Sunday, July 3 • 4pm – 5pm • Main Events (Hall B)
If there was a list of Japanese game creators who have a wealth of knowledge, and create games that both keep up with current trends and invoke feelings from the golden age of Japanese games, Comcept CEO Keiji Inafune and Inti Creates CEO Takuya Aizu would no doubt be included in that list. The main topic of conversation will be about how they, as Japanese game creators, aim to create their own original style of games which are designed to appeal both to their local fans in Japan and to fans across the globe. They will also talk about their current projects, and that will be followed up by a Q&A session. Knowing these guys, they may have some surprises up their sleeves too…
Peeking up Gal*Gun's Skirt: From Fan Request to Western Release (18+) – Saturday, July 2 • 10:30pm – 11:30pm • Live Programming 4
Ever wondered if your fan request to a games publisher ever has any influence?  Yukimasa Tamura and Matt Papa of Inti Creates, along with Geraint Evans from publisher PQube talk about bringing Gal*Gun to a Western audience. Topics will include series history, the making of the game, the localisation process and the joy of moe! We'll also have a Q&A at the end of the panel.
AUTOGRAPH SESSION
Keiji Inafune Autograph Session – Sunday, July 3 • 2pm – 3pm • Kentia Hall
 We can't wait to see all your shining faces at Anime Expo!